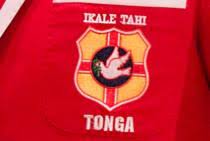 The 'Ikale Tahi will face Scotland, England, French Barbarians, and Romania during their European tour in October and November, Tonga Rugby Union CEO Peter Harding confirmed Tuesday.
However, the team will be without Head Coach Toutai Kefu, who had surgery after he was stabbed during a home invasion in Brisbane last month. Toutai has recovered but will remain with his family.
"There will be no Head Coach on tour," said Harding.
"I will announce staff next week and there will be a coaching co-ordinator in the group and Toutai will have continuous input throughout."
The players will be announced at a later date.
The 'Ikale Tahi European tour schedule follows:
*30 October: Scotland
*06 November: England
*13 November 13: French Barbarians
*20 November 20: Romania.
Meanwhile, Malakai Fekitoa's dream of playing test rugby for Tonga is on hold after the former All Black suffered a serious shoulder injury in the English Premiership.
Fekitoa is now eligible to play XVs for Tonga after representing them at the Olympic Games 7s qualifier in Monaco last June.
The hard-running midfield back played 24 tests for the All Blacks before taking his game to France in 2017, joining European powerhouse Toulon. He moved to English outfit Wasps in 2019 and has become the rock of their backline.
But disaster struck just two games into the current season when Fekitoa, 29, was seriously injured in last weekend's 44-8 thumping of the Bristol Bears.
"Malakai has dislocated his shoulder and will need surgery. It will be months rather than weeks, and he will be out for a significant time," Wasps coach Lee Blackett said as he provided the unwanted diagnosis on Fekitoa's injury update.
That means Fekitoa will miss Tonga's exciting test schedule where they are set to play Scotland in Edinburgh on October 30 and England at Twickenham the following weekend.
Blackett is also worried about the impact on his ambitious Wasps club who finished eighth last season after being runners-up the previous year.
"It is a blow to lose someone who is a talisman for us, and it will open up opportunities for guys to come in. He is the ultimate team man and leads the backline, but some of the young guys will get a chance now," Blackett said.
"We will explore looking at bringing someone in and also things we can do within the squad to move people into the centre.
"We will look around but if we don't feel we can add to the group we won't bring them in. We have options in the squad," he said.
SOURCE: TONGA WIRES/STUFF NZ/PACNEWS