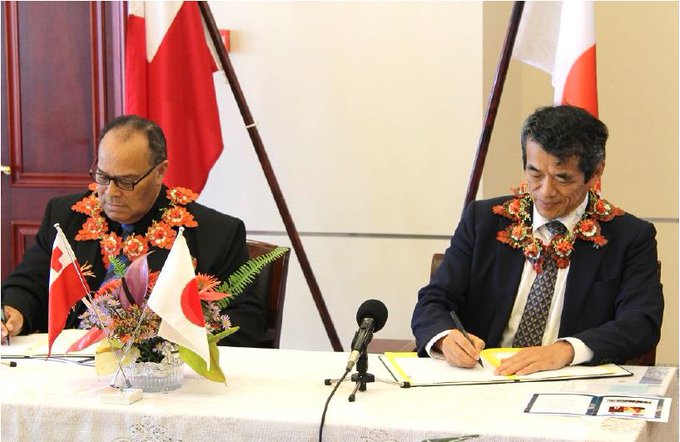 A multi-million dollar grant for the provision of a new tugboat for Tonga was signed by the Japanese Ambassador to Tonga Kensaku Munenaga and the Prime Minister, Dr Pohiva Tu'i'onetoa.
The agreement, worth approximately US$10 million from the Japanese Government under its Non-Project Grant Aid scheme, will be used for the provision of a new tugboat for the Port of Nuku'alofa.
"Without this new tug boat, the numbers and sizes of vessels calling on Tonga's ports could be limited and will adversely affect the clearance of goods, which could ultimately put Tonga's food security at risk," said Ambassador Kensaku.
This is the ninth round of Non-Project Grant Aid NPGAs, totalling USD$17million, for Tonga since 2009, when Japan opened its embassy in Tonga.
"You could understand the significance of today's grant as well as Japan's priority," he said.
This is the second tug boat to be donated by the Japanese Government to the Ministry of Public Enterprises and the Ports Authority. The first tug boat was the MV Hifofua in 1994, and is still in operation under the Port Authority. The life of the new tugboat will be around 27 years.
The Prime Minister, Dr Pohiva Tu'i'onetoa said the new tug boat was requested by Government to cater for the needs of the Ports Authority, and to comply with legal requirements and International Standards.
According to the Asian Development Bank, 80 percent of imports to Tonga arrive by cargo ships.
SOURCE: TONGA WIRES/PACNEWS