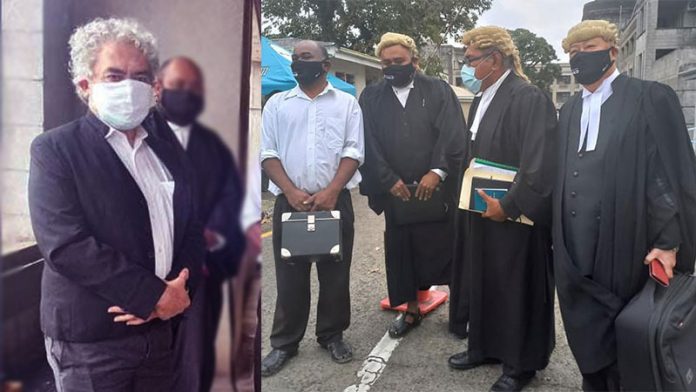 Were the 2014 and 2018 Fiji elections free and fair?
This was one of the questions posed by prominent local lawyer and former Supervisor of Elections, Jon Apted said as he labelled Attorney-General Aiyaz Sayed-Khaiyum's criticism of counsel who represented politician Niko Nawaikula – and the Supervisor of Elections and the Attorney-General – "baseless and unfair".
He said voters in Fiji, the Commonwealth, and the United States, have always been allowed to register and vote under their everyday names, instead of the names on their birth certificates.
"Is the A-G suggesting that elections have never been free and fair in England, Australia, New Zealand, the USA – and in Fiji, including in 2014 and 2018?" he asked.
"How could the A-G's counsel argue that allowing voters to use a name that was not on their birth certificate would breach the Constitution when that would imply that the elections in 2014 and 2018 which the A-G and his party won were not free and fair?"
He said Nawaikula's case before the Court of Disputed Returns had nothing to do with him "registering twice or because he was dead or used a dead man's name".
"That was not the issue in his case.
"The FEO removed his name because they said the law requires you to use your birth certificate name, when that is not the law at all, as the Court of Disputed Returns ruled."
"We did address the issue of double registration and dead voters' names in our oral submissions to the court," he said.
"We acknowledged that the use of common names on the register may make it hard for the Fijian Elections Office to remove the names of all dead voters based on information from the Births, Deaths and Marriages Registry.
"However, we submitted that the FEO should still allow people to use their common or married names but take additional information about voter's birth certificate names. I believe I suggested that they could take their birth registration numbers like they are currently doing with vaccination.
"In that way, the people's legal right to use the common or married name that they identify with would be respected and the needs of the administration would also be met.
"How can you say that an election in which you are forced to use a long-abandoned name, free or fair? A free and fair election is one where voters and candidates are free to use the names by which everyone knows them. How can voters exercise their right to vote freely and fairly, if candidates are forced to use a name that no one knows them by?"
Apted was the lead Counsel on the team that defended Nawaikula, who was deemed to have vacated his seat in Parliament in July after Supervisor of Elections Mohammed Saneem removed his name from the National Register of Voters.
Saneem had based his decision on the fact that Nawaikula had applied to be registered on the National Register of Voters in 2013 under the name "Niko Nawaikula" when that was not the name on his birth certificate.
The Court of Disputed Returns and Chief Justice Kamal Kumar later ruled that Saneem's decision was unlawful, and therefore, "null and void".
Sayed-Khaiyum told a press conference last Sunday the ruling could have serious implications on the fairness of general elections.
He said counsel for both sides failed to point out to the court that allowing voters to use their everyday names would breach the constitutional right to free and fair elections, because it could allow people to register twice or in the name of dead voters.
Questions sent to Sayed-Khaiyum on the comments made by Apted remain unanswered.
SOURCE: FIJI TIMES/PACNEWS