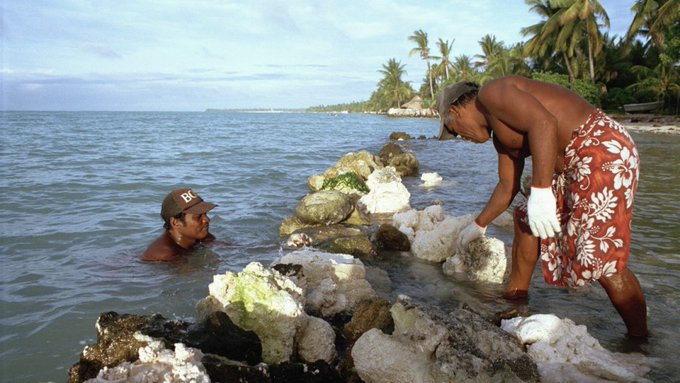 Humans are responsible for the rise in the earth's global temperature and it won't stop rising unless immediate action is taken — UN panel
By Imelda Abaño and Sanjeshni Kumar
The impacts of human-caused climate change are severe and widespread as soaring temperatures, droughts, intense storms, rising seas and other extreme weather events will continue to be felt for centuries, according to a grim new report by the world's top climate scientists. Already, sea level rise poses an existential threat for the people living in the Pacific Islands.
The sobering latest report from the United Nations Intergovernmental Panel on Climate Change (IPCC) released on August 9 is clear that some consequences of the climate crisis are already locked in and warned that time is running out to save the planet.
"It is unequivocal that human influence has warmed the atmosphere, ocean and land. Widespread and rapid changes in the atmosphere, ocean, cryosphere, and biosphere have occurred," the report reads.
Sea levels could rise by more than 15 metres by 2030 as many changes due to past and future greenhouse gas emissions are irreversible for centuries to millennia, especially changes in the ocean, ice sheets and global sea level, the reports says. Already, associated flooding has nearly doubled in many coastal areas, including the Pacific.
As soon as 2030, the report also stated that global warming is expected to hit 1.5 degrees Celsius, a decade earlier than previously expected. Today, the Earth is already 1 degree Celsius warmer.
The report, prepared by 234 scientists from 66 countries, is a stark reminder for world leaders to drive action and help build momentum for a successful outcome of the 26th UN Climate Change Conference (COP26) in Glasgow in November this year. It is the first installment of the IPCC's Sixth Assessment Report (AR6), which will be completed in 2022.
"The innovations in this report, and advances in climate science that it reflects, provide an invaluable input into climate negotiations and decision-making," said IPCC Chair Hoesung Lee.
It's time for urgent climate action
Fijian Prime Minister Frank Bainimarama tweeted about the report saying that the "new IPCC report puts Pacific Island nations 0.4 degrees Celsius away from existential catastrophe".
"We know what's coming. More importantly, we know how to stop it. By COP26, we need dramatic cuts in emissions by 2030, net zero emissions by 2050, and no excuses," Bainimarama tweeted.
Tagaloa Cooper, Director of Climate Change at the Secretariat of the Pacific Regional Environment Programme (SPREP) calls for urgent action to combat climate change and to keep the Paris Agreement pledge of 1.5 ˚C temperature limit.
"There can no longer be any doubt about the impact that climate change is having, and will continue to have, upon us in the Pacific islands., Cooper said. "We are appealing to the humanity of people, and asking everyone to take urgent action today, for all of us, before we reach dangerous climate change."
He stressed that the latest report from the IPCC must serve as a wake-up call for everyone.
"We know that climate change does not discriminate, and while we in our region are on the frontlines, the impacts will reach everyone in our global community," Cooper said.
Pacific Islanders are among the world's frontline communities, yet their struggles and efforts remain largely overlooked.
"It is time for actions. The emissions of greenhouse gasses have continued to increase and the problem will remain until these are substantially reduced. There is a need for political will and the commitment by every country, especially the rich industrialised nations responsible for the lion's share of the emissions, to reduce GHG emissions and move to net zero carbon emissions by 2050," said senior climate change expert Dr Mahendra Kumar.
Dr Kumar added that "small Island states should not be swayed by promises to mitigate these by measures such as carbon trading, planting trees, carbon capture and storage."
He said sound investments are needed to address climate change, adding that financing is key in responding to existential threats in many of the Pacific Island countries such as sea level rise, coastal inundation and cyclones.
"Sea level rise for low lying atoll nations remain a major concern. The loss of larger areas of land may cause major dislocation of populations and with it all the major issues due to movement of people, loss of land, security, culture and sovereignty," Dr Kumar added. "With sea level rise comes impacts on available water, agriculture, food security and health. Extreme events such as droughts, floods, cyclones will get more severe. Loss of biodiversity and economic impacts due to effect on fisheries and forestry will be profound."
Pacific Islanders are not the only countries or regions in the world that are facing the brunt of climate change but everyone on the planet from developed countries to small island developing states with the poorest of all being the most vulnerable to impacts of climate change, according to Alfred Ralifo, Senior Policy and Government Affairs Manager of WWF Pacific.
"Climate change, nature loss and intense cyclones are a signal to world leaders that they must take urgently ramp up climate actions. If leaders fail to meet the Paris Agreement Goal, then there is going to be a planetary catastrophe, from ecosystem collapse to severe natural disasters, economic collapse, and many more," Ralifo said.
He said that the IPCC report findings reinforce the urgency to step up and take action with more ambitious Nationally Determined Contributions (NDCs) while urging efforts to limit the increase to 1.5 degrees Celsius.
"All these enhanced NDCs collectively must provide an opportunity to translate big picture climate goals into concrete policies, financial commitments and measures by which emissions are reduced, and climate resilience is enhanced," Ralifo said.
Lavetanalagi Seru, Climate Justice Project Officer of the Pacific Islands Climate Action Network (PICAN), said that with the dire climate change report, COP26 should be about ambitious commitments from governments and for vulnerable small island nations to be represented in the talks.
"We are asking on a separate standalone loss and damage finance mechanism so that it can address the financial need from vulnerable countries to relocate communities. Also, to start building adaptation, adaptive measures, and resilience for communities to explore some of the climate induced disasters like early warning systems," Seru added.
Importantly, Seru said developed countries must also reaffirm and scale up their commitment to mobilise US$100 billion per year from 2020 through to 2025 to help developing countries reduce emissions and establish plans for climate adaptation.
"We should be concerned with all climate impacts, including the slow onset disasters such as sea level rise, ocean acidification, and the warming ocean because we see many of our marine life of fish migrating to cooler waters and these have an effect on people, their security and livelihoods," Seru said.
Last month, leaders and ministers from 11 countries in the Pacific met virtually with COP26 President Alok Sharma to reiterate their commitment to ramp up climate action and urged the largest greenhouse gas emitters to make deep emissions cut to limit global warming to 1.5 degrees Celsius.
Among other things, the Pacific leaders called for COP26 to deliver a step-up in finance for small island developing states both in mitigation and adaptation action. They also stressed the importance of ocean issues at the climate talks in Glasgow.
"Pacific islands are at the forefront of a crisis they did next to nothing to cause, with a temperature rise above 1.5°C presenting an existential threat to their future. Many are showing real leadership in tackling climate change. The G20 and other major emitters now have a moral responsibility to follow this example, and that of the G7, by taking urgent action to keep 1.5°C alive," Sharma said.
SOURCE: PASIFIKA ENVIRO NEWS/PACNEWS