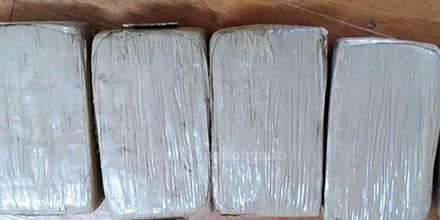 The cocaine haul seized in Vava'u has been weighed at just over 14 kilograms, with an estimated street value over $5 million pa'anga (US$2.2 million), Tonga Police said
Acting deputy Commissioner Halatoa Taufa said a total of 12 people had so far been arrested and charged, regarding the cocaine that washed up on Vava'u beaches recently.
He said 10 were arrested in Vava'u and two in Tongatapu, consisting of nine men and three women
Some have been charged with possession and engaging with others in the supply of illicit drugs. Others have been charged for intentionally lying to Police contravening section 29 of the Illicit Drugs Control Act, he said.
"I encourage members of the public to refrain from lying to Police about anything they may know about any drug-related matter as you would be committing an offence if you do. This can cost you up to $10,000 or imprisonment or up to three-years or to both."
Tonga Police acknowledged the assistance of His Majesty's Armed Forces, in particular the Tonga Navy for providing the maritime capability required in this Police operation.
"They remain a necessary and valued partner in the nation's war against drugs," said the A/Deputy Commissioner.ne
Tonga Police earlier reported seizing a total of 11 cocaine packets, including the first six handed to them, after being washed up on the beaches at Höleva and Ha'alaufuli, in the third week of July.
On 29 July the first five people were arrested by the Tonga Police Drugs Enforcement Taskforce.
This was during raids at three residences, two in Ha'alaufuli and 'Utulangivaka and a third in Nukunuku, Tongatapu.
On 02 August three more people, all three foreign nationals were arrested and charged in Neiafu, with 2kg of cocaine seized.
A 70-year-old British man, his 58-year-old American wife and a 25-year-old American man were arrested, at Houmelei in Neiafutahi. Their case is expected to be called at the Magistrate's Court in Vava'u, on 12 August.
The remainder of the Tongan accused would have their cases called on 17 August.
Meanwhile, four more arrests were made last week.
SOURCE: TONGA WIRES/PACNEWS