By Makereta Komai, PACNEWS Editor in Tokyo
Federated States of Micronesia (FSM)'s 100m breaststroke swim queen, Taeyanna Adams broke her national record at the Tokyo 2020 Olympics Sunday.
Adams shaved off a good 0.37 seconds from her national record, recording a faster time of 1:25.26 and placed fourth in the women's 100m breast-stroke event. Only the best 16 swimmers from the six heats progressed to today's semi-finals and final tomorrow (Tues 27 July) at the Tokyo Aquatic Centre.
Team FSM in Tokyo congratulated Adams for making FSM proud.
"She already holds the FSM record for the 100m breaststroke and just broke her own record here in Tokyo. Thank you for representing FSM and all of us to the world Olympics. #TeamMicronesia #Tokyo2020."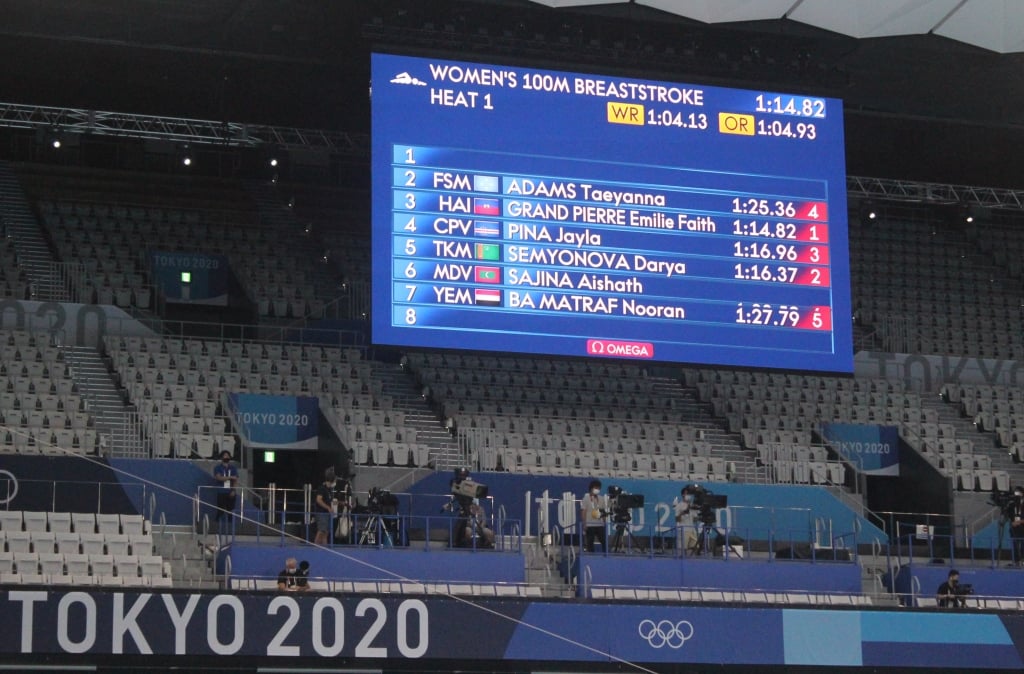 The 19-year-old who lives in Kona, Hawaii holds the Micronesia Swimming Federation 100m breaststroke record of 1:26.13 in 2019 and the 100m freestyle record of 1:08.41 in 2018.
This is Adam's first Olympic Games. She was the flagbearer for her country at the Opening Ceremony on Friday.
In other swimming news – disappointment for Tonga's Olympic medal hopeful, Amini Fonua, who was disqualified in the men's 100m breaststroke competition Sunday.
While the official result did not explain the reason for the disqualification – Tonga's National Olympic Committee Secretary General, Takitoa Taumoepeau told Matangi Tonga the disqualification was 'very disappointing but a good swim by Amini.
Takitoa said the disqualification may have something to do with "his kicking under water."
The other swimmer from American Samoa, Micah Masei in the same event took out first place in the time of 1:04.93 in the field of three swimmers.
Swimmers may receive a disqualification for violating certain rules while in the act of swimming. Failing to touch the wall when executing a turn, grabbing the lane markers, using the lane markers for momentum or pushing off the bottom of the pool will all result in a disqualification.