By Makereta Komai, PACNEWS Editor in Tokyo
Papua New Guinea and the Pacific's top woman weightlifter, Dika Toua created Olympics history Saturday, when she competed in her fifth Olympics – but bowed out at 10th place to a field of 14 strong lifters.
Toua is not new to making history at the Olympics. In Sydney at the 2000 Games she became the very first female to participate in Olympic weightlifting for females.
At 37, Toua was the oldest athlete in the field and had to change weight category due to the new Olympic weight categories, at these Games, having formerly lifted in the 53kg category.
She competed in Pool B, placed fourth after snatching 72kg and clean and jerked 95kg, lifting a total of 167kg.
Team PNG acknowledged Dika Toua's historical participation – competing at five Olympic Games, since 2000. She is considered one of PNG's most successful lifters spanning 21 years of competitive weightlifting at both regional and international level.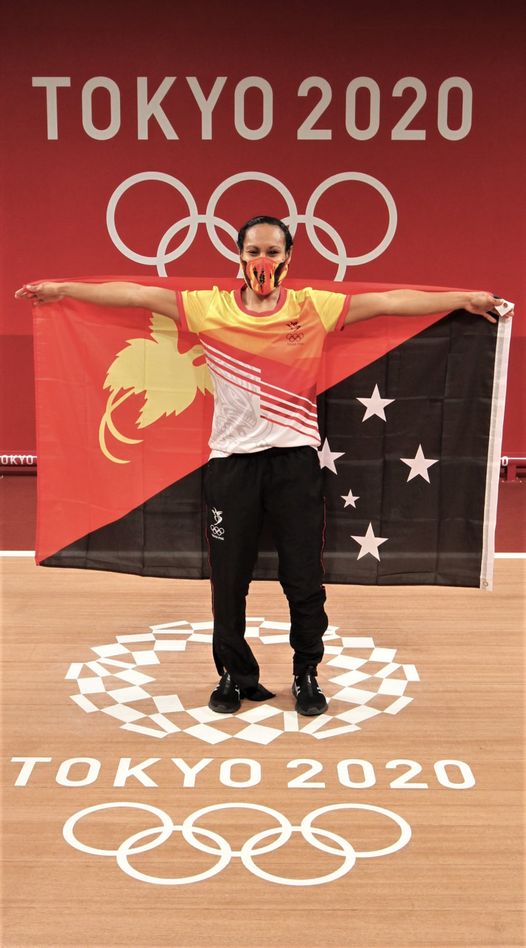 "It's an amazing feeling. You know, when you think about the Olympic Games, your dream is to go to one and maybe the second one," Toua said. "I've never imagined in a million years I'd make it to my fifth, she told journalists in Tokyo.
Toua's Olympic journey has taken her to Australia, Greece, China, Britain and now Japan, with a best result of sixth at the 2004 Athens Games. She only missed out on the 2016 Rio de Janeiro Olympics, when she stepped aside to give her sister a shot at qualifying in the lightest category. When her sister's bid was thwarted by financial problems, that spurred Toua to come back and try for Tokyo, where she finished 10th.
She is current Pacific Games champion and won gold in her 53kg category at all Pacific Games since 2002.
Team PNG is proud of Toua's achievements – flying high the PNG flag in weightlifting.
"It's a wrap. Dika was the first female athlete to lift at the Sydney Olympics Games in 2000 when women weightlifting was first introduced. She competed in the women's 48kg event back then.
At the end of competition today, Toua finished 10th out of 14 athletes with the world record lift and gold medal going to China, silver to India and bronze to Indonesia.
Chef de Mission Tamzin Wardley said, "Everyone was so proud of Dika's achievements especially as her mentor and long-time coach, Paul Coffa was unable to travel to Japan.
"Dika holds a special place in the hearts of the weightlifting community. After two decades of participation at the highest levels around the world, she is a well-known and much admired personality up on the weightlifting platform".
"We have members of the press and officials coming up to anyone in a Team PNG uniform to tell us how much they admire her.
"Her role as an ambassador for our country cannot be overstated, said Wardley.
Another Pacific athlete that competed Saturday was Vanuatu's Riilio Rio, in the repechage race in the Men's single scull rowing competition. He finished third with a time of 8.17.00, slower than his first race on Friday.
Fiji's first athlete to compete at the Tokyo 2020 Games, Sally Yee put up a strong fight against Guyana's Chelsea Edghill but went down 5-11, 11-4,3-11, 6-11 and 8-11.
Samoa's welterweight boxer, Marion Faustino Ah Tong also went down to a strong and powerful opponent, Zambia's Stephen Zimba who won by unanimous 5-0 points from the five judges.
Competition continues Sunday for five Pacific athletes in swimming (Taeyanna Adams-FSM), women's radar radial sailing (Sophie Morgan-Fiji), men's 67kg weightlifting (Ruben Katouatau-Kiribati), men's 61kg weightlifting (Morea Baru-PNG) and boxing lightweight category (John Ume-PNG).
Meanwhile strong winds and rain forecast for Japan for Monday has prompted the Tokyo2020 Olympic Games to reschedule part of the rowing competition scheduled for Monday to Sunday and the heats in the men's and women's eights set down for Sunday were moved to Saturday.
According to the Japan Meteorological Agency, a typhoon hit the Ogasawara Islands, south of Tokyo, late Friday. Forecasts show that the storm, which was upgraded to a typhoon is slowly moving north and could affect the Tokyo region on Tuesday.
At a news briefing today, Christophe Dubi, the sports director for the International Olympic Committee, said no major schedule changes were planned other than those for rowing.
PACNEWS coverage of Tokyo 2020 is made possible with travel support through a long standing partnership with the Oceania National Olympic Committee (ONOC)