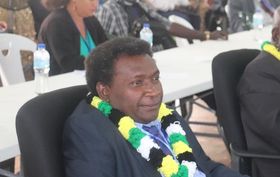 External investors can now apply to do business in Bougainville under an amended Inward Investment Act.
ABG Minister for Commerce, Trade and Industry Patrick Nisira made this announcement Tuesday saying that Bougainville is 'open for business'.
"We are looking to deliver on the Autonomous Bougainville Government's ambition for a strong local economy which will be recognized both nationally and internationally as a good place for business investment," Minister Nisira said.
"Bougainville now has its own Bougainville Inward Investment Act and Board to assess foreign investment applications. Together they support responsible investment and productive business partnerships with local companies and communities. All foreign investment applications into the region must come through this 'front door' for assessment," he said.
In 2019, Bougainville held a referendum to decide its political future where the people voted overwhelmingly to become an independent nation. Aligned to this political aspiration, the Bougainville Government has plans underway to build its economy through economic-focused programs such as the establishment of duty free and tax-free zones in selected sites in Bougainville and the development of financial hubs to make Bougainville attractive for investment.
"We will follow the footsteps of successful countries in the world to make Bougainville safe and secure for investment, and for the people to have a harmonious lifestyle," Nisira said.
"Bougainville will have a strong focus on maintaining peace and a law-abiding environment to provide investors and communities alike confidence to build and grow. This includes a strong police force and military," Nisira added.
Minister Nisira outlined some of the potential sectors for investment in Bougainville including agriculture, fisheries, mining, tourism, construction and service industries respectively.
"The agriculture sector in Bougainville has shown great resilience and is largest employer of Bougainvilleans. Bougainville exports world class cocoa as primary products and chocolate from Bougainville is winning awards around the world."
"Opportunities exist in input supplies to service the small holder cocoa blocks and plantations and value adding and downstream processing activities that would attract higher incomes," Nisira said.
The fisheries and tourism sectors in Bougainville are also sleeping giants that hold great potential opportunities for further investments.
"Bougainville's tourism sector is expected to grow in the coming decades. Our region is blessed with a fascinating history and beautiful scenery," he said.
While the ABG welcomes external investors, it also has the responsibility to empower indigenous people to participate in economic development in Bougainville through the Bougainville Reserve Business Activities.
"This means that foreigners are not allowed or are ineligible to participate in the restricted business activities that are meant for Bougainvilleans only," he explained.
The ABG through the Ministry for Commerce, Trade and Industry is developing an economic strategy that focuses on supporting local businesses through a wide range of business support activities and large scale infrastructure projects.
"Bougainville people are hard-working, industrious, entrepreneurial and resilient and the region is blessed with an abundance of natural resources.
"Our government aims to ensure that any investment into Bougainville would therefore have mutual sustained benefits to the resource owners, government and the economy," he said.
Businesses are encouraged to download information and application forms on the government website www.abg.gov.pg
SOURCE: ABG GOVT/PACNEWS