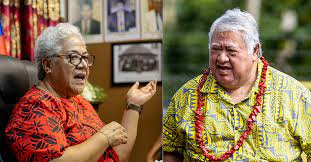 Samoa caretaker Prime Minister Tuilaepa Dr Sailele Malielegaoi has filed a complaint against the leader of Fa'atuatua I le Atua Samoa ua Tasi (FAST) party over "drastic" allegations, Acting Police Commissioner, Papalii Monalisa Tiai-Keti has confirmed.
Responding to questions from Samoa Observer, Papalii said the matter was filed last Friday, and is now in the hands of an internal task force for investigations.
She said it is the same commission that had earlier been convened by the now-absent Police Commissioner, Fuiavailiili Egon Keil, to investigate criminal complaints filed by HRPP against FAST and its lawyers. Fuiava is expected to be in New Zealand for a month.
Tuilaepa revealed that he launched a complaint against the FAST leader, Fiame Naomi Mataafa, during his weekly interview with the state-owned 2AP radio on Thursday.
He said the complaint was to particularly address accusations made by his rivals that he had personally tried to persuade the courts to rule in the favour of the HRPP (Human Rights Political Party) and allegations that he sent HRPP Members of Parliament to interfere with the court's operations.
"This has been broadcasted overseas. Not only in English but also in Samoan," he said. "These accusations undermine me, as the leader of this country, making it seem like I have committed corrupt and unlawful acts."
Tuilaepa did not specify when Mata'afa made such allegations, but flatly dismissed the claims, saying he has not set foot in the courthouse over the last seven months.
"They said I went inside where the judges reside and begged. This whole year I have not been to the courthouse," the caretaker PM said.
"Meaning, there isn't a single judge whose chambers I entered and begged. I also did not send any MPs from our party to try and persuade any judges; the judges will bear witness. When did I come?
"So I lodged my complaint with the Police this afternoon and I will not withdraw it."
Tuilaepa said the significance of his complaint is to ensure that Mata'afa is summoned to stand and give evidence on the matter herself.
He said attempts had been made to humiliate him and the nation of Samoa.
"Trickery pays well in the short run but not in the long run," he said. "It is ridiculous that I would do this kind of stupid acts of going over as alleged by Fiame, that I did go and pressure the judges and influence them prior to the petition hearing.
"This is a very drastic accusation, and I can never, never, never allow this to go unchallenged. So I have lodged with Police a complaint for them to look into this matter.
"I think the most preferable action that must be done is to have a court hearing so that she could come into the court and inform the judges who of the judges I did actually go and influence?
"This is a very serious matter because it indicates the kind of leader I am, corrupt as an assumption from this allegation, that I am protected as a corrupt leader of Samoa
"I did not know that Fiame would bend so low as a leader of the FAST party."
Mata'afa made the allegations live on air during a press conference on Tuesday and emphasised that she had to correct "HRPP's lies" as neither herself or the party's Deputy Leader, Laauli Leuatea Schmidt or any of their members have met with the Chief Justice or any other Supreme Court Judge in secret.
"Let me further correct that lie and say this…unlike Tuilaepa who has personally visited the Court Complex at Mulinu'u attempting to speak to at least three sitting Supreme Court Judges (before the 17 May cases were decided), accompanied by others, and who has also sent his former MPs to attempt to visit Judges in their private homes, to speak with them prior to court hearings, we have not sought to undermine the independence of the Judiciary in such an inappropriate manner," she said.
"This type of behaviour is outrageous and strikes at the heart of what is good, what is right and the conventions which are at the heart of our democracy.
"No such meetings ever took place. This type of misinformation is absolutely consistent with the recent slurs on the reputation of La'auli, which we now find was a complete lie motivated by malice and assisted by the failure by journalists to independently check their facts…and seek and honour the truth."
Tuilaepa condemned Mata'afa's claims that he is running a dictatorship, saying she does not seem to know the meaning of the word and added that while she claims he is operating like a tyrant, he in fact seeks to deliberate with others (soalaupule).
He then continued to say that "Fiame was never like that before", claiming that she has been influenced by La'auli and compared the FAST party to a puppet show scene from the "Sound of Music" movie.
SOURCE: SAMOA OBSERVER/PACNEWS