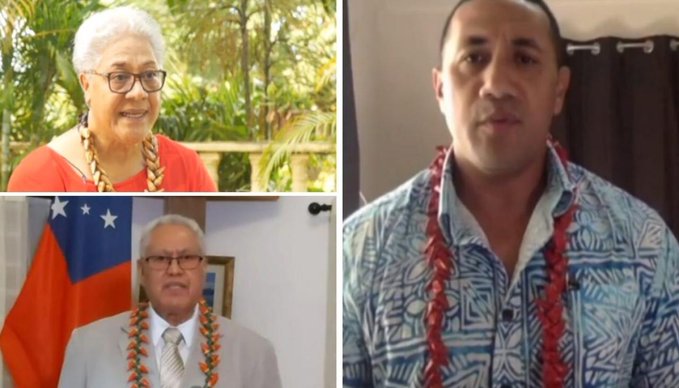 A political commentator is urging the international community to get involved and for a politician to be dragged out of office as a new development emerges in Samoa's battle for power.
Political commentator Mata'afa Keni Lesa spoke to The AM Show on Monday almost two months after FAST Party broke a month-long deadlock from the April election to claim a majority of seats in Parliament.
"This is a country which this morning has woken up to a new development," Lesa said.
"The court last week ordered that parliament convene by at least today and tomorrow. But late last night the head of state made an announcement that only he has the power to call parliament and he has now announced that parliament will convene on the 2nd of August."
Samoa's Head of State Tuimalealiifano Vaaletoa Sualauvi II made the announcement on television last night.
Human Rights Protection Party (HRPP) currently remains in a caretaker role and is insisting that the parliament must have six seats for women, while only five were elected.
Tuimalealiifano said because of the uncertainty over the seat, parliament cannot be convened now.
Lesa said the development has left the public "as confused as ever".
"There's no solution in sight. It will be interesting to see what happens next."
He said he believes it's time for Prime Minister-elect Fiame Naomi Mata'afa to take over and international help is needed to reach a conclusion.
"I think this is a major international crisis and personally I think the international community needs to step up because even the head of state last night basically said 'I'm not responsible to the court. I'm basically above the law.' If the head of state is above the law, what is the hope for this country?"
Lesa said he believes a peaceful solution will no longer be reached.
"At the beginning I was hoping that that common sense would prevail and it would lead to a peaceful solution but I now think somebody needs to be dragged out of the office," he said.
SOURCE: NEWSHUB/PACNEWS