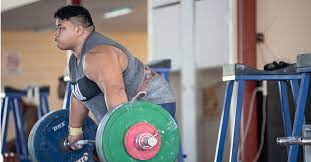 Tokyo Olympics-bound Samoan weightlifter Iuniarra Sipaia has spoken for the first time on New Zealand's transgender weightlifting rival Laurel Hubbard, saying she is sad that the Kiwi continues to compete in the women's division.
Hubbard will compete in the 87+ kilogram category and is again on a collision course with Sipaia, who will compete in her first Olympics in Tokyo next month.
In an interview with the Samoa Observer on Tuesday, Sipaia said this will be their fourth meeting and she was only able to beat the transgender athlete once.
She said despite Hubbard undergoing gender transitioning he still has the strength of a man.
"For me personally, this is very unfair, she may have changed her gender to a female but she's still got the strength and bones of a man," she said.
"I first competed with him in 2017 in Australia's Open Weightlifting competition which I lost to him, then we met again in the Pacific Games that we (Samoa) hosted in 2019 which I lost too, and last year's Australia's Open in which I won and Laurel did not place any.
"But I just hope that they (International Olympic Committee) reconsider having him compete with us."
According to Sipaia, when she first heard about "a man" competing in her category, she was taken aback.
But she knew she had to compete and couldn't let her hard work go wasted after all the effort she put into it.
"Honestly speaking in 2017 when I heard that there was a transgender in my division, I was really mad because I knew no matter how hard I trained this guy will snatch away our division.
"I honestly wanted to quit and not compete. But then I thought of how hard my coach and also my hard work and effort to get there I knew the show must go on.
"And so I put all my efforts and all that was in me but still was not enough to beat Laurel, and we all know that a female's strength can never be compared to a man's in this sport."
Sipaia said when she lost to Hubbard in 2017 she lost the drive to compete, and she later heard that the Kiwi also competed against her male colleague Niu Sila Opeloge before he underwent gender transitioning to become a woman.
"I heard from our team that Laurel used to compete against our brother Niu Sila Opeloge before until he transformed himself and is now competing in our division," she said.
"I am not discriminating against him because of his gender but perhaps consider not competing in the women's division, he is still a man despite his transition from man to woman," she said.
SOURCE: SAMOA OBSERVER/PACNEWS