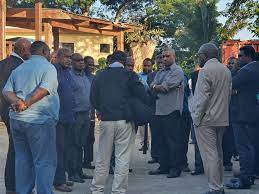 The 19 Members of Parliament (MPs) on the Vanuatu Government side who are subject to the ruling of Justice Oliver Saksak, will be filing a civil case through their legal counsel today.
Public Relations Officer (PRO) to the Prime Minister's Office, Fred Vurobaravu, confirmed this to the Daily Post.
The MPs which include Prime Minister Bob Loughman, Deputy Prime Minister and Minister of Internal Affairs, Ishmael Kalsakau and other state ministers and government backbenchers have had their seats vacated through a ruling of former Speaker of Parliament, Gracia Shadrack which was upheld in a recent Supreme Court decision. The decision was stayed through a verbal request.
The civil case relates to their presence in three consecutive sittings in Parliament, between Government and former Speaker, Shadrack.
In related news, Vurobaravu said counsel Robert Sugden is working on the Government's appeal in relation to Justice Saksak's ruling.
SOURCE: VANUATU DAILY POST/PACNEWS