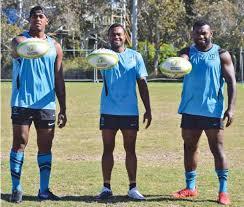 Fiji 7s captain Jerry Tuwai has revealed that senior players in the team have played an instrumental role to keep the players together as family after being away from their loved one's for more than three months.
The Fijian 7s side moved into camp before the second wave of COVID-19 hit Fiji and since then have been together in camp, preparing for the upcoming PacificAus Oceania 7s and the Tokyo Olympic Games.
Tuwai said "According to the management everything is going well and what I hear from the boys is that they are gutted and looking forward to the tournament next weekend.
Tuwai added that one of the big thing is staying away from families and he thanked the senior players who have stepped up and took the leading responsibility to guide the younger players.
"We have meetings on daily basis and doing activities that can keep us together as a team and for all of us to look forward to the task ahead.
We all are aware of the challenge and the sacrifices we have to make for our families and the nation as whole" said Tuwai.
It been long and everyone one of us are looking forward to playing Australia and New Zealand, whom we last faces in the World Rugby Sevens Series a year ago.
"I think all the boys have been training really well for past few months and we are excited for the Oceania 7s and it will be a good ground for us to try and put together a team that will contest and play in Tokyo" said Tuwai.
"It is really important for all of us, as the experience players who have been playing in the series have been out for about a year now and I think playing against teams like New Zealand and Australia that has been playing with us in the series it will be a really good test and an opportunity for us to put together a team that can defend the gold medal in Olympic Games.
Fijian 7s Head Coach Gareth Baber has named 7 new players who have not been to any series and will be playing against New Zealand and Australia for the first time.
Tuwai said these players deserve to be in the team.
"These young players are really good when it comes to on and off field behavior or training. They have been working really hard and I know they will surely shine during the three-day competition next week in Townsville" said Tuwai.
The Fiji Airways Fijian 7s team faces Australia in their opening match at 4pm on Friday.
SOURCE: FRU/PACNEWS