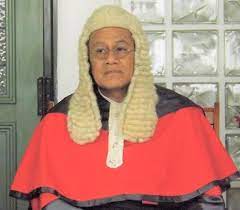 A Human Rights Protection Party(HRPP) member has failed in a bid this morning to have the Samoa Chief Justice,Satiu Simativa Perese, recused from an appeal on whether she should be granted a seat in Parliament.
The application to dismiss Justice Satiu was advanced and rejected by Aliimalemanu Alofa Tuuau – a prospective MPwhose passage to Parliament depends on the case – on Monday morning. She had also asked for an overseas Justice to sit on the panel of the Appellant Court hearing the case.
The dismissal comes after the Attorney General was last week forced to withdraw entirely a motion to replace the judges sitting on the case entirely, just days after its submission.
Justice Tafaoimalo Leilani Tuala-Warren handed down the decision dismissing the applications.
She noted a familial connection to the Chief Justice and one of the parties in the case, Prime Minister-elect Fiame Naomi Mataafa, was insufficient grounds for an application that he be recused from the case on the ground of real or perceived bias.
The Justice noted that the supposed familial connection, which has been publicly discussed, dates back some four generations.
Justice Tuala-Warren said the application advanced did not meet the high threshold required for a judge to stand down from a case.
She concluded the application was an attempt to undermine the integrity of the Chief Justice and is therefore dismissed.
Because the recusal application of the Chief Justice was dismissed there was, therefore, no need for a panel to convene and consider the further request for an overseas judge to sit on the appeal, she added.
The appeal hearing has commenced chaired by Chief Justice Satiu, Justice Tuala-Warren and Justice Fepuleai Ameperosa Roma.
At issue in the case is whether Aliimalemanu should be admitted to Parliament on the grounds that an insufficient number of women were elected to meet a constitutionally mandated quota requiring that 10 per cent of MPs elected be women.
Five women were elected in the 09 April election for a 51-seat legislature.
Aliimalemanu and the Electoral Commissioner are appealing a Supreme Court decision that voided her appointment to sit in Parliament.
If successful her appointment would drastically alter the balance of power in Parliament, expanding its size and bringing it to a 26-all deadlock and depriving Mata'afa and the Faatuatua i le Atua Samoa ua Tasi (FAST) party of a one-seat majority: 26-25.
The Appellant Court had earlier ruled against a stay of execution on the enactment of the Supreme Court's ruling that would have, if successful, allowed Aliimalemanu to sit in the first sitting of the Legislative Assembly until the substance of the case was decided.
A final decision on the matter is expected by this week's end.
SOURCE: SAMOA OBSERVER/PACNEWS