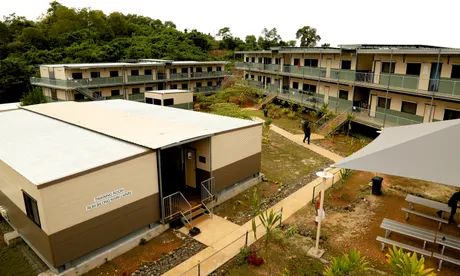 Refugees exiled to Papua New Guinea a decade ago will be sent back to Australia if the Australian government fails to continue funding PNG's humanitarian programme, Port Moresby's most senior migration official has warned.
PNG's chief migration officer, Stanis Hulahau, said the refugees had been abandoned by Australia and the PNG businesses that had been housing and caring for the men were owed tens of millions of dollars.
"If Australia wants the refugees to continue to remain in Papua New Guinea then they have to fund the programme, or we will shut the programme and send the refugees back to Australia," Hulahau said.
Port Moresby's Pacific international hospital claims it is owed nearly $40m (US$25 million), while a number of other service providers, including security firms and motels across the capital, are owed between $6m (US$3.2 million and $8m (US$5 million) each.
About 70 refugees and asylum seekers forcibly sent by Australia to PNG remain held in the country: many have been told they face eviction because the bills at their places of accommodation have not been paid for a year.
The Australian government maintains it has no responsibility for the welfare of the refugees it sent to PNG, most in 2013 and 2014.
The refugees and asylum seekers were formerly detained within Australia's detention centre on Manus Island before it was ruled unlawful by PNG's supreme court in 2016, which ordered the centre to close.
At the end of December 2021, Australia and PNG ostensibly ended their regional resettlement arrangement. But about 140 refugees and 10 asylum seekers remained in PNG.
Australia signed a "confidential bilateral agreement" with PNG to pay an undisclosed amount of money to PNG's Immigration and Citizenship Authority to provide "welfare services" to the refugees remaining in the country.
The secret contract was signed by the Morrison government but its existence was never declared. The Albanese government continues to refuse to reveal how much of its $300m (US$190 million) irregular maritime arrival offshore management budget has been provided to PNG under the agreement.
About 70 men remain in PNG, the vast majority of whom are refugees who have had their claims for protection formally recognised. Others have been resettled in the US and Canada or moved to Australia for medical treatment.
Hulahau said Australia's funding was initially forecast to run over 2021 and 2022, and that the Australian government had paid no more funds since then, despite refugees remaining in PNG.
"The funding provided by Australia was expected to provide for services to be sustained for two years and [it] was provided on forecasts for caseload reduction over the course of two years, as it was anticipated that most remaining persons would depart to the US or Canada.
"But we didn't anticipate Covid-19, or that the borders would be closed and you would need vaccination cards to travel."
Hulahau said he had written repeatedly to the Australian Department of Home Affairs seeking clarity on what was to happen now to the refugees who remain in PNG.
"We still have service providers to pay for, and if we are to continue managing the refugees then we will need a supplementary budget to do so," he said.
"I have gone down in person to Canberra twice but have not received any response or clarity on what is to be done.
"If Australia wants the refugees to continue to remain in Papua New Guinea, then they have to fund the program, or we will shut the program and send the refugees back to Australia to manage."
Responding to a series of questions from Guardian Australia, a Home Affairs spokesperson said: "The department does not have any role in the ongoing management of, or service delivery arrangements for, individuals remaining in PNG.
"This is a matter for the PNG government."
Australia has repeatedly stated it transferred responsibility for the men's welfare to the PNG government at the end of 2021, a position not supported by international law, which maintains that Australia retains legal responsibility for those it has sent offshore.
According to documents seen by the Guardian, Pacific international hospital is owed 90m kina (AUD$38.88m) while most of the service providers, including security firms and motels, are owed between K15m (US$4 million) and K20m (US$5.4 million).
The refugees and asylum seekers still held in PNG say they live in a state of limbo, facing an uncertain, precarious future. Most suffer serious and long-running physical and mental health conditions. The Guardian is aware of several who are confined to rooms, suffering acute mental health crises, and unable to take part in any resettlement interviews.
One refugee said this week: "I hope that the Australian government … realises now about the situation and the life of a refugee here. They should stop playing any more before something wrong happens."
Australia's sole "enduring" form of offshore processing, the detention centre on Nauru, was reopened last month, just four months after the last refugees were resettled from the island. It is understood 11 boat-borne asylum seekers were intercepted in September and transferred there.
An Australian Border Force spokesperson said it "does not comment on operational matters".
The detention centre on Nauru had remained in abeyance – at a cost of $350m (US$222 million) a year – as a contingency to send asylum seekers in the event of boat arrivals.
SOURCE: THE GUARDIAN/PACNEWS