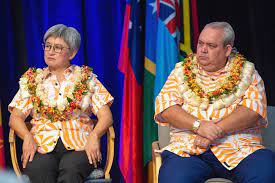 By Harlyne Joku

Beijing has raised concerns about a proposed security agreement between Papua New Guinea and Australia, the Pacific island country's foreign minister said Monday as he returned home from an official visit to China seeking development assistance for his nation.
The prime ministers of Papua New Guinea and Australia said earlier this year that they wanted negotiations for a wide-ranging bilateral security treaty to be done by the end of April. Australia is the largest donor to Papua New Guinea.
Chinese Foreign Minister Qin Gang "raised China's concerns on [the] proposed PNG-Australia Bilateral Security Treaty and its intended purposes," Papua New Guinea Foreign Minister Justin Tkatchenko said in a statement Monday. The two officials met in Boao, Hainan province, last week.
Qin, Tkatchenko said, "went on to seek reassurances that the purported bilateral security arrangement with Australia was not in some way seeking to counter China's influence in PNG and the Pacific."
Tkatchenko's statement highlights the balancing act for Pacific island countries as China and the United States vie for influence in the vast ocean region.
Over several decades, China has become a significant source of trade, infrastructure and aid for economically lagging Pacific island countries as it seeks to diplomatically isolate Taiwan and gain allies in international organisations. Last year, Beijing signed a security pact with the Solomon Islands, alarming the United States and its allies such as Australia.
The small island nations also hope to gain from renewed U.S interest in the region. However, some leaders have said they don't want to be swept up in superpower competition or to be forced to take sides in the Sino-American rivalry.
In his statement, Tkatchenko said he explained to China's foreign minister that the proposed security agreement with Australia was not only about defence and would cover a range of security areas from policing to biosecurity.
He also asserted that Papua New Guinea's recent decision to close its Taiwan trade office was due to a need to cut costs rather than geopolitics.
"It will be one focused more on building PNG's capacity and capabilities to face these security challenges from the external environment but more importantly internally," he said. "It will not be solely [a] defense agreement between PNG and Australia."
Qin also mentioned China's concerns about the agreement for Australia to acquire nuclear-powered submarines next decade under the AUKUS security pact with the United Kingdom and the United States, according to Tkatchenko.
AUKUS is widely understood to be part of U.S efforts to contain China, which now rivals the United States in economic power and is rapidly building up its military arsenal.
Qin, said Tkatchenko, "compared this alliance to a typical Cold War mentality" that goes against aims of nuclear nonproliferation and the South Pacific Nuclear Free Zone created by the 1986 Rarotonga Treaty.
Tkatchenko said he explained Papua New Guinea's strong support for the Pacific being a nuclear-free zone.
China bankrolled Papua New Guinea's hosting of the Asia Pacific Economic Cooperation (APEC) summit in 2018, which brought together leaders of countries that comprise about 60 percent of the world economy. Beijing's promise at that time to help Papua New Guinea build hundreds of kilometres of roads has not materialised.
Tkatchenko said Qin reassured him of China's ongoing support for Papua New Guinea projects it is involved in including rebuilding of police barracks in Port Moresby and maintenance of the international convention centre, which was built for the APEC meeting.
China and Papua New Guinea would also renew discussion on the possibility of direct flights between Port Moresby and Shanghai, he said.
SOURCE: BENRA NEWS/PACNEWS