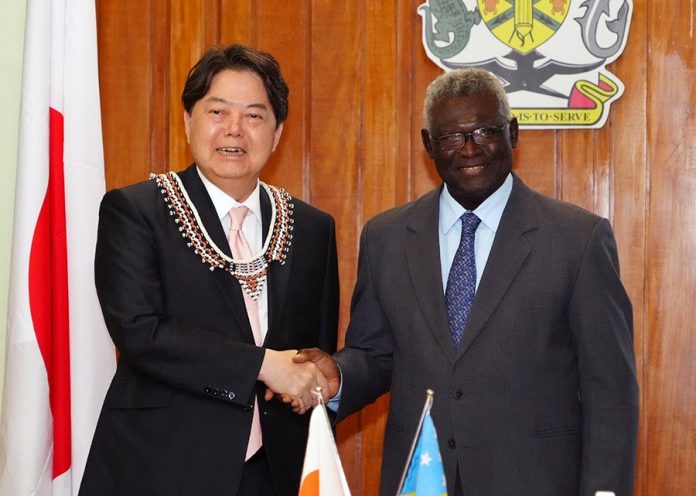 Solomon Islands has reiterated concerns over plans by Japan to discharge nuclear treated water into the ocean and its impact on the health of the ocean.
Solomon Islands welcomed discussion between Pacific Islands Forum leaders, the region's Independent panel of scientists, the Japanese Government, experts and the International Atomic Energy Agency (IAEA) on the science of the proposal to determine its safety.
The message was relayed to Japan foreign Minister Hayashi Yoshimasa during an official visit to Prime Minister Manasseh Sogavare on Sunday.
The face to face dialogue presented an opportunity for the leaders to discuss matters of bilateral interests between Solomon Islands and Japan.
The two countries had cordial discussion on the ALPS question.
Hayashi said Japan will make sure that the release does not cause harm to the environment or human health. Sogavare appreciated his explanation, according to the Japanese Foreign Ministry.
Hayashi handed to Sogavare a letter from Japanese Prime Minister Fumio Kishida on the water release and Japan's view on strengthening bilateral relations.
Discussion covered bilateral, international, regional issues.
Foreign Minister Hayashi also used the opportunity to introduce Japan's Kizuna policy which has the following priority areas;
*COVID-19 response and recovery,
*Sustainable oceans based on the rule of law,
*Climate change and disaster resilience
*Strengthening foundations for sustainable and resilient economic development
* People-to-people exchanges and human resource development.
Prime Minister Sogavare also expressed the government and people of Solomon Islands gratitude to the Government and people of Japan for supporting infrastructure development in country – particularly the ongoing Honiara Highway project, Honiara International Terminal building, Fisheries, Education, Health, Mines and Energy, Forestry funded activities.
The Prime Minister reiterated that Solomon Islands places enormous importance on UXO clearance/removal. The presence of UXO can impede development efforts, and compromise safety and security of communities and public.
"The ongoing support by the Government of Japan to remove UXO would increase accessibility to land for development, and other uses that would support economic prosperity of the people, and nation," stated Prime Minister Sogavare.
The visit by Hayashi, is the first in recent years for Solomon Islands to receive a Foreign Minister of Japan.
SOURCE: SIBC/PACNEWS