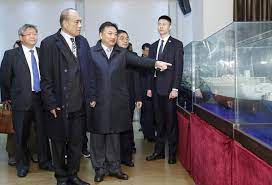 Amazement is the right word to use when describing China's development achievements in the past ten years, Kiribati President and Foreign Minister Taneti Maamau said.
The chapter ahead would add color and excitement to the great story of the Chinese people and the country, Maamau said in a recent written interview with Xinhua.
Maamau recalled his first trip to China as "an eye-opener" to see the high living standards of the Chinese people. "This is a great achievement" testifying to the country's "people-centred development vision," he said.
First elected president of Kiribati in 2016 and then re-elected, Maamau paid a state visit to China in 2020, after the resumption of diplomatic ties between the two countries in September 2019.
Maamau said he strongly agrees with the idea that people's support is of paramount importance in governance.
"My government also prioritises anti-corruption at the top of our agenda," and has begun to establish legislative frameworks to "effectively stamp out corruption in Kiribati," Maamau noted.
"More work is required," he said, adding Kiribati will continue to learn from its partners like China about measures that will assist efforts in Kiribati.
The partnership and cooperation between Kiribati and China have "grown immensely" since the resumption of diplomatic ties three years ago, Maamau said.
Noting that Kiribati has drawn its first long-term development blueprint Kiribati 20-year Vision (KV20), which "focuses on building wealth, peace and security, infrastructure for development and governance," Maamau said. "China's assistance has been very responsive to the priorities under the KV20," particularly infrastructure building and improving the livelihood of the Kiribati people.
After the outbreak of COVID-19, China sent batches of vaccines and equipment to Kiribati, which Maamau said have boosted the country's response to the pandemic.
"We are also fortunate to have medical experts from China, who are now assisting in our health sector, and their contributions have been felt very strongly," said the president.
China's assistance throughout the world shows its "deep commitment" to helping countries struggling to respond to the pandemic, he said.
Kiribati "is very much appreciative" of the South-South cooperation China has been calling for, the concept of which is "to foster solidarity among peoples and countries of the South that contributes to their national well-being, their national and collective self-reliance and the attainment of internationally agreed development goals," Maamau said.
China's South-South cooperation programmes aim to "assist building resilience to disasters and climate change and to uplift the livelihood of people," he noted.
China's attitude towards Pacific island countries is "very culturally sensitive," Maamau said. "That is the key to promoting cooperation, mutual trust and genuine partnership between China and the region," he said.
SOURCE: XINHUA/PACNEWS