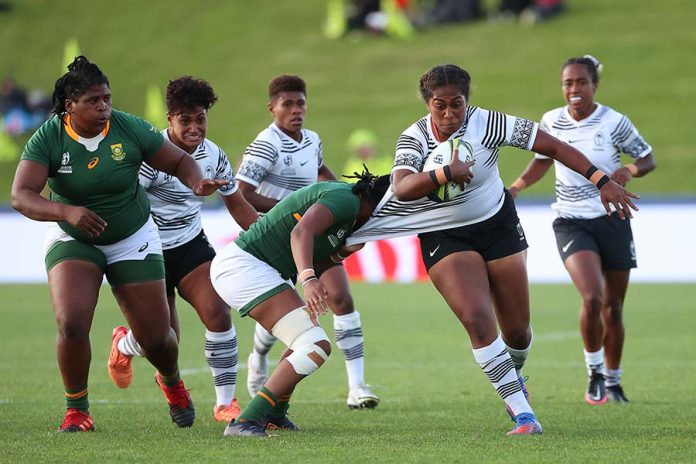 Fiji leapfrogged five teams including Samoa to 16th following their last-gasp 21-17 win over South Africa Sunday
The win, their first in the Rugby World Cup 2021 means they keeps their hopes of progressing further in the competition alive.
It did not come easy, the Fijiana had to fight until the final whistle for the win.
Two disallowed tries, great defense by the Springbok women and a penalty by Libbie Janse van Rensburg that put South Africa in front for the first time in the match in the 79th minute put Fiji's campaign in jeopardy.
However, the Fijians kept their nerve from the resumption of play with Siteri Rasolea stepping up with another of her impressive ball carries, that earned her the Player of the Match award, to pave the way for the winning try by Karalaini Naisewa under the posts in the 79th minute. Lavena Cavuru added the extras to seal the win.
CAPTAIN ASINATE SEREVI
On the win
"I have no words for it. I am just grateful for the girls, hats off to them. We talked about just leaving everything on the field and playing with heart. Something Fijians are known for is that if we have a minute or a couple of minutes left, we can score a try and win a game, and that's what we did."
On what it means to captain Fiji
"It meant the whole world. It is a blessing. I can't thank god enough; I can't thank my family enough for all the support. My plan was to just come and play for Fiji and represent my country and my family and to be named captain is honestly beyond my dreams."
On the message she received from her father, Waisele Serevi
"He always tells me to take every opportunity as if it is my last and that is what we did today. He knows how to control the game, and that's what he told me, 'to control the game, be patient and have fun'. And that's what we were able to do. The last thing I said to the girls before the game was to have fun and everything will fall into place."
On the key to victory
"Playing our Fijiana offload game. We knew that if we were patient and we were connected as a team we'd be able to play the way we wanted to play. I think that helped us a lot during the game."
On the late drama
"The energy going into the game today was positive. I think we just played to our strengths. Even with two or three minutes left in the game, we knew we had the confidence. We just said, 'kick, let's get it back and we score', and that's what we did."
On what the win means for women's rugby in Fiji
"It is a huge step for us. Winning this one game today in the World Cup means, to us, that we have won the World Cup already. We know that moving forward France is going to be tougher but we know we have things to work on. Just winning this game today, we know that we have inspired a lot of girls back home that want to play rugby."
On what they need to do against France
"I think we can be a lot more physical but I think, for us, it is being a lot more patient with the ball. We get excited when we have the ball and we want to get the Fijian offloading going. But we know that sometimes we get shut down and we have to have something else to fall back on which is good. But we trust our coaches, they know what they are doing."
On the support
"It felt like we were back home! We know that we cant have our families out here but we have families here in Auckland and we really appreciate them coming out and supporting us."
HEAD COACH SENIRUSI SERUVAKULA
On the late drama
"I have belief in our girls that they play to the last whistle and they did that with style. The message was clear from the week – we need this win. I am very proud of the girls. They stuck to it and played until the very last whistle."
On the challenge posed by South Africa
"It was tough. South Africa are a good team – a well-balanced team and well-coached – and they were very physical. They knew the style of our play and they tried to capitalise on that. Sometimes we lost energy and concentration and they punished us."
On what it means to win
"It is our first World Cup and our first win and that is huge for us, especially for these girls to gain confidence from the first game to the South Africa game because this is the only chance for us to play big teams.
"These girls are role models back home and women's rugby is getting bigger back home and a lot of them want to play in three years' time at the next Rugby World Cup."
On the France game
"We talk about going into this Rugby World Cup to win matches and it is not going to get easier. Playing against England was tough, and we learnt a lot from that. Playing against South Africa today, to the last whistle, we won, and it is a big match again against France. If we want to play in the quarter-final, we will have to do everything right during training, stick to the process and everything will come right."
On the support
"I am very thankful to the Fijian community who came out in numbers and it boosted the girls a lot during the game.".
SOURCE: MAI TV/PACNEWS