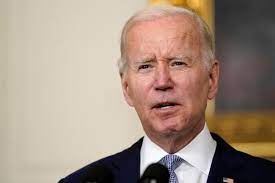 The Biden administration will convene the first-ever U.S-Pacific Island country summit on 28-29 September in Washington — an urgent effort to redeem U.S credibility in a region where China is filling the void created by decades of U.S disengagement.
Biden aims to reverse Beijing's diplomatic inroads among the islands powered by decades of economic and development aid that threatens to render the U.S regionally irrelevant.
The administration is hinging its pitch of closer relations with Pacific Island countries to intangibles including "shared history, values, and people-to-people ties." But those are empty buzzwords unless Biden pairs them with substantive, long-term benefits to Pacific Island countries rivaling those provided by China.
"We are going to step up our game with respect to supporting a variety of initiatives across the Pacific," Kurt Campbell, the U.S National Security Council's Indo-Pacific coordinator, said this week at a Carnegie Endowment for International Peace event. "It is not just one or two meetings — this is a very sustained effort that will involve almost all the key players in the U.S government who have interests in the Indo-Pacific."
Those initiatives include greater military cooperation between the U.S and Pacific Island countries. The U.S will conclude an 11-day military exercise Friday in Fiji that included personnel from Australia, the United Kingdom and New Zealand.
Campbell's challenge is a widespread perception among Pacific Island countries that the U.S is unreliable.
"America premised their whole efforts in the Pacific on [Cold War] geostrategic competition, and once that [Soviet] threat was gone, America didn't see the reason to be in the Pacific anymore," said Patricia O'brien, professor of history in the Asian Studies Program at Georgetown University. "[That] provided huge openings for China once they were ready to expand into the Pacific in the 2000s."
For many Pacific Islanders, the most visible symbols of U.S engagement are the remains of former World War II battlefields such as Guadalcanal in the Solomon Islands. That influence vacuum has lubricated China's steady diplomatic outreach in the absence of a competitive U.S alternative.
"We have done things that I think were foolish such as close embassies and discontinue the Peace Corps … and China is busy offering them help with those needs with a bunch of conditions, and that's a hard choice to put them in," said Rep Ed Case (D-Hawaii), co-chair of the Congressional Pacific Islands Caucus and a longtime proponent for closer U.S ties with the region.
The good news for the U.S is that the State Department is close to renewing strategic partnership agreements with the Pacific Island nations of Palau, Micronesia and the Marshall Islands after six months of intensive negotiations, Special Presidential envoy Ambassador Joseph Yun told China Watcher this week.
The renewal of those agreements, called Compacts of Free Association, will effectively firewall those three countries from a relentless drive by Beijing to displace the U.S as the region's dominant superpower.
But Yun warned against U.S complacency as it competes with China for the loyalties of other Pacific Island countries. "What the Pacific countries are looking for is a long-term, sustainable relationship and not just [the U.S.] paying attention now and then," Yun said.
Beijing's controversial security pact sealed with Solomon Islands in April rang alarm bells about China's diplomatic penetration of the region. That agreement — concluded despite strong objections from the U.S, Australia, Japan and New Zealand — served as a rebuke of U.S diplomatic disengagement with Oceania. And it has spurred a flurry of U.S diplomatic outreach to the Solomons and other Pacific Island nations to reverse perceptions that the U.S. has abandoned the region.
"The PRC's success in negotiating a security deal with the Solomon Islands has really created a sense of urgency … the administration was caught off guard and is now forced to play catch-up," said Steve Chabot (R-Ohio), ranking member of the House Foreign Affairs Asia subcommittee, in a statement.
U.S suspicions about the security pact's impact on the Solomon Islands' relationship with the U.S appear justified. Solomon Islands denied port access to a U.S Coast Guard cutter last month due to unspecified "bureaucratic reasons" and subsequently imposed a temporary moratorium on all foreign naval ships. "[There] appears to be the Chinese export [to the South Pacific] of both technologies and approaches that are basically designed to replicate certain elements of authoritarian leadership," Campbell said.
China insists its engagement in the South Pacific doesn't aim to displace the U.S. "Growing relations with the [Pacific Island countries] is not about seeking a 'sphere of influence' and does not target any third party," Chinese Foreign Ministry spokesperson Wang Wenbin said Wednesday.
There is a bipartisan consensus that reversing China's South Pacific influence expansion requires investment in U.S. diplomatic infrastructure. "In order to enable them to choose the U.S., we must have a physical diplomatic presence — including an embassy and ambassador — in every Pacific Island country," said Sen. MARSHA BLACKBURN (R-Tenn.), a member of the Senate Armed Service Committee.
But Pacific Islanders want assurances those embassies won't fall prey to shifting U.S budget lines or geostrategic priorities. "Pacific leaders resent being used as pawns in this geopolitical contest," said Mihai Sora, research fellow in the Sydney, Australia-based Lowy Institute's Pacific Islands Programne. "Pacific cultures have long memories and it will take time to win Pacific countries' trust that the U.S.'s strategic intent in the region is genuinely to their benefit."
Winning that trust will require the U.S to ensure that next week's summit includes deliverables that address islanders' key concerns. A diplomatic pat on the back and an unambitious financial aid package — like the modest US$150 million Biden doled out among ASEAN's 10 member states in May — is likely to underwhelm summit participants.
"[China is] going island-by-island from a national level down to the village level. I don't really think that the U.S. has got a handle on how much money and resources would be needed to combat China in the same way, so they have to think of other ways to do it," O'Brien said. "I think they really need to come up with some big long-term programme that addresses climate action and also the economic and social recovery from Covid."
Initiatives to address the existential threat that the climate crisis poses to Pacific Island countries will get leaders' attention. China has helped power its diplomatic inroads with a bespoke climate diplomacy aimed to address concerns about rising sea levels. China's special envoy on climate change, XIE ZHENHUA, last week convened a "climate change dialogue and exchange meeting" in Beijing with diplomatic representatives from Vanuatu, Samoa, Kiribati, Solomon Islands, Micronesia, Fiji and Tonga, the Chinese Foreign Ministry reported.
The stakes of U.S efforts to successfully reengage with Pacific Island countries have implications far beyond the South Pacific. U.S willingness and ability to reestablish itself as a credible alternative to China's enticements in the region will affect perceptions of U.S resolve worldwide.
"If the U.S. is not present, then other countries in far flung regions around the world will conclude that the United States is retrenching and retreating at the very time that China is expanding aggressively," said Senator Todd Young (R-Ind.). "So, if we don't provide reassurance in the Pacific, then it could very well undermine our interests in other parts of the world," he said.
SOURCE: POLITICO/PACNEWS