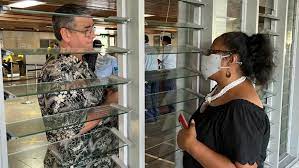 The Kiribati government has made an extraordinary attempt to deport suspended High Court justice, David Lambourne.
Lambourne is an Australian and longtime resident of Kiribati. In a spectacular showdown on Thursday, he was taken to the airport and officials tried to force him to board a flight out of Kiribati.
He is now out of immigration detention, but former president Anote Tong said the case has highlighted the breakdown in relations between the courts and the government of President Taneti Maamau.
"Cases cannot be heard because in the high court because there is no high court is not functioning," Tong said.
"This thing seems to be an assault on the judiciary," he said.
SOURCE: RADIO AUSTRALIA/PACNEWS