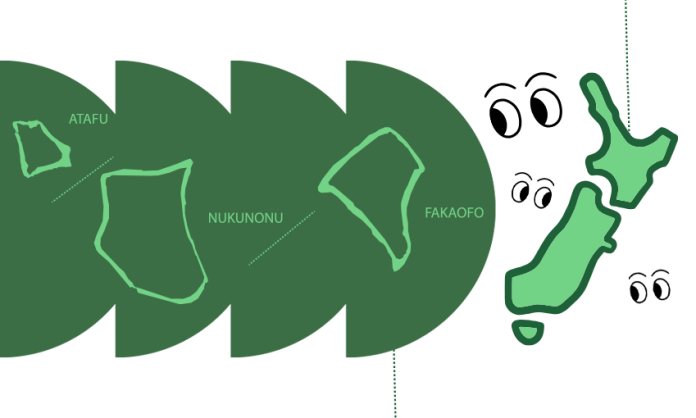 By Samson Samasoni
Since 1925, Tokelau has been a New Zealand 'colony'. That's set to change – but this trio of atolls 500km north of Sāmoa has much to consider before choosing which path to take.
In a decision our foreign affairs ministry describes as "momentous", Tokelau's future is again on the agenda. And potentially, Aotearoa may have to redefine what we mean by the far north if Tokelau decides to fully integrate with New Zealand.
The debate about the status of Tokelau as a non-self-governing territory of New Zealand has been revived by its parliament, the General Fono, with plans to mark 100 years of colonial supervision by finally deciding its future by 2025/26. Tokelau came under New Zealand's jurisdiction in 1925.
Decolonisation list
On world maps Tokelau represents a trio of tiny dots in the south Pacific; three atolls with a total land mass of 10 square kilometres, the highest point above sea level five metres, located 500km directly north of Sāmoa and about 1,00 km from the equator.
With a population just shy of 1,500, it has its own political institutions, judicial system, public services including telecommunications and shipping, and full control of its budget – unless it wants to buy its own helicopters and then suddenly New Zealand gets colonialistic (notwithstanding whether the aircrafts were correctly requisitioned).
The controversial helicopter deal was in 2016 when New Zealand was outraged to learn Tokelau had bought two helicopters that were part of plans to build airstrips. New Zealand responded by imposing spending restrictions on Tokelau and two staff ended up in court over the matter.
But that's the reality – Tokelau is still a New Zealand "colony", something the United Nations is keen to change. In 1945, there were 72 territories on the UN's decolonisation list. Today there are just 17, and six are in the Pacific: Guam and American Sāmoa (United States); French Polynesia and New Caledonia (France); Pitcairn (United Kingdom) and Tokelau (New Zealand).
But last month, New Zealand's Ministry of Foreign Affairs and Trade (MFAT) reported to a UN special committee about a "momentous decision" by Tokelau to begin a new conversation on the long-standing question of self-determination.
Momentous indeed. It was in 2006 and 2007 that Tokelau last came close to making a decision on its future, but both times not enough Tokelauans supported the change to self-government in the referendum conducted.
"It's now 14 years since we took that referendum, and there has been silence since with no further conversation where to from here," says the English language version of a paper presented to the General Fono in May. "Tokelau should be looking at defining its position. What future dreams does Tokelau wants (sic)? The answer is only within Tokelau."
New Zealand agrees that the answer lies with Tokelau. A spokesperson for the New Zealand prime minister, Jacinda Ardern, says that "ultimately this is a process being driven by Tokelau and their decision to make".
According to the UN, a non-self-governing territory can be said to have reached a full measure of self-government by emerging as a sovereign independent state, in free association with an independent state or integration with an independent state.
So, in Tokelau's case, the three options for becoming "decolonised" would be: full independence (which Sāmoa achieved in 1962); in free association with New Zealand (which Niue gained in 1974 and the Cook Islands in 1965); or fully integrating with New Zealand (like the Chatham Islands).
According to one Tokelau legal expert, all that would be required for Tokelau to become fully integrated with New Zealand is an act of parliament.
The prospect of Tokelau formally integrating with New Zealand raises intriguing issues about how it would be administered and the changes that Tokelau would have to undergo to become an official district. One minor example is that the Chatham Islands is part of the Wellington electorate of Rongotai, even though it's almost 800km away from the capital. So would Tokelau become part of the Northland constituency?
But there are far more complex social, cultural, economic and political issues that Tokelau would have to consider before deciding which option is best suited for them.
Three years may seem like a long time for such deliberations, but Tokelau has been on the UN's decolonisation list for 77 years and is no closer to a consensus on which direction to take.
Some locals are worried that with its tiny population base, Tokelau doesn't have the expertise or economic wherewithal to navigate a successful pathway to full independence. Others are concerned that integrating with New Zealand would mean losing its cultural identity, language and unique way of life.
The General Fono paper says that the people of Tokelau have to fully understand the ramifications of each of the UN options but also consider whether there are other governance models that would be more appropriate. And, in a case of looking to the past to determine the future, Tokelau also wants to review and examine the 100-year relationship it will have had with New Zealand by 2025.
The pathway forward will involve deep discussions at village level on each of the three atolls – Fakaofo, Nokunonu and Atafu.
The paper also suggests that there may be the need to consult with the Tokelauan diaspora – estimated to be about 20,000 people, with approximately 8,000 in New Zealand alone, and sizeable communities in Australia, Hawai'i and mainland United States. Previously some Tokelauans living in New Zealand were angered that they weren't invited to participate in the referendums.
What about Olohega?
In the lead-up to 2025/26, Tokelau also hopes that significant progress will have been made on a number of projects before it decides its new governance arrangement, including some that were delayed by the Covid pandemic: the completion of an airport (it currently takes 24 hours to travel by boat from Sāmoa); establishment of a Tokelau language commission; securing of its exclusive economic zone and fishing boundaries; connection of the fibre optic cable for high-speed internet; securing a proper vessel for inter-atoll travel (as it takes about nine hours to travel between the three atolls by boat); and the completion of preparations for climate change.
One of the most intriguing prerequisites listed in the General Fono paper is the development of "a strategy for Olohega" (also known as Swains Island).
Olohega is a fourth atoll that was traditionally considered part of Tokelau but is now a United States territory by way of American Sāmoa. The history of Olohega and how it was "fraudulently" claimed by a US citizen in 1859 is outlined in a fascinating exposé by American writer Laray Polk. The fact that Olohega was then "bargained away" by New Zealand in 1980 to the US is still the subject of deep resentment for many Tokelauans.
Tokelau has previously told the UN that the free association model, a la Niue and the Cook Islands, is not appropriate, but clearly Tokelau has decided that now is the appropriate time to make a firm and final decision about its future. "If we are not willing and (don't) start exploring now, we may be questioned by our future generation," the General Fono paper says.
Whatever decolonisation pathway Tokelau decides by 2025/26, it could still be some time before the decision is formally actioned. Pressure for Sāmoa to become independent grew after the second world war but it was more than 15 years before its independence was formally enacted in 1962.
As with most things to do with Tokelau, people who survive off the bounty of the sea but are also threatened by it in terms of king tides and sea-level rise, analogies of sea-faring and voyaging are pervasive.
"What is important, as our ancestors would say 'Taia ko Lata Matau'. Let's be strong to first allow Tokelau to develop then seek help later," the General Fono paper says.
"Let's look forward for better days, knowing, there will be many challenges, but Tokelau can initiate the work to know the right tack depending on the wind direction whether it's from the stern, the bow, starboard or port side. Important the vaka (vessel) is buoyance (sic), steady keel, straight forward sailing.".
Samson Samasoni is a journalist, producer and communications professional who has worked in Aotearoa, the Pacific, the Middle East, and UK.
SOURCE: THE SPINOFF/PACNEWS