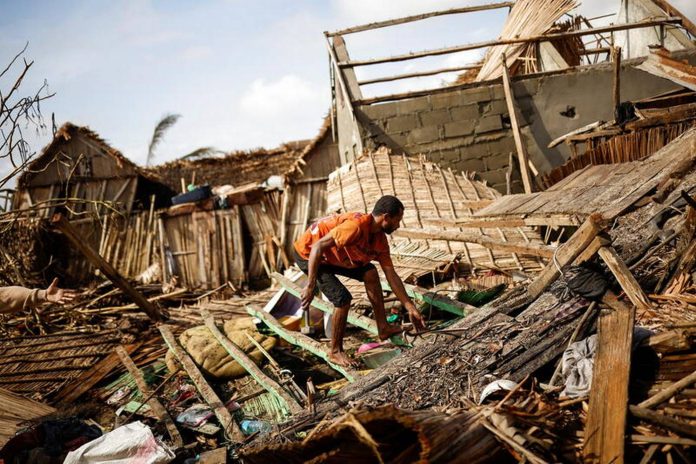 The surging costs of climate change-driven destruction have made vulnerable nations poorer by about one-fifth, 55 such countries said on Wednesday, as fears grow that UN discussions on money for states to repair and avoid harm could become a "talk shop".
"Loss and damage" caused by more extreme weather and rising seas is a key issue at mid-year UN climate talks in the German city of Bonn, as negotiators launched a three-year dialogue this week on a topic that has long divided rich and poorer economies.
The "Glasgow Dialogue" emerged after a push for a new loss-and-damage fund for vulnerable countries floundered at the UN COP26 summit in Scotland last year due to resistance from donors including the United States and some European governments.
But small island states and other countries that are already bearing the brunt of a warming world – from more powerful storms in Madagascar to disappearing islets in the Marshall Islands – urged wealthy governments not to hold back progress in Bonn.
"We ask in particular that we do not just have another talk shop on finance for addressing climate impacts," said Ralph Regenvanu, a parliamentarian from Vanuatu, a Pacific island nation grappling with frequent cyclones and rising seas.
If the dialogue does not result in real action on getting money moving to the most vulnerable people, it "will fail", the opposition leader warned ahead of the June 6-16 climate talks.
The Bonn conference got off to a tense start this week, as developing and advanced economies tussled over whether and how to include the "Glasgow Dialogue" on the official UN agenda.
Green groups fear push-back on that signals a lack of commitment by donor countries to provide new funding.
Harjeet Singh, a senior advisor with Climate Action Network International, which represents more than 1,500 civil society groups, said the dialogue should set up a financing facility at a UN summit this November and start to deliver money in 2024.
"We do not want three years of only talking which doesn't lead to any action or any real help to people on the ground who are suffering right now," he told journalists on Tuesday.
A flagship UN science report in February said climate change-driven losses are already happening and are set to become much worse if measures to curb emissions from fossil fuel use worldwide are not dramatically stepped up.
Climate-vulnerable nations have long grappled with the slow pace of progress at UN negotiations, with their key demands – including more finance to adapt to climate change and compensation for losses and damages – going largely unmet.
New studies this week laid out the extensive impacts and costs they are suffering as the planet heats up.
A report on 55 economies hit hard by climate change – from Bangladesh to Kenya to South Sudan – found they had lost about US$525 billion – or 20% of their wealth on average – in the last two decades due to the impacts of global warming.
These losses cut their economic growth by an average of 1% each year, according to the study, based on models that measure losses associated with changing rainfall patterns and temperatures compared to scenarios without such climate impacts.
The findings underscore the urgent need for countries to redouble their efforts to avert and recover from loss and damage, said Sara Jane Ahmed, finance advisor for the Vulnerable Twenty Group (V20) of 55 countries that released the study.
"Breaching the 1.5 degree-Celsius (global warming) survival limit of the Paris Agreement will spell more wealth destruction and devastation for the most climate-vulnerable economies," she told the Thomson Reuters Foundation.
The V20 has set up a small loss and damage fund to test how such a mechanism could help communities and will showcase the results at November's COP27 climate summit in Egypt.
Meanwhile, the amount of money needed for UN humanitarian aid in response to weather extremes such as floods and drought has skyrocketed more than 800% over the last 20 years and donors are struggling to keep up, an analysis by charity Oxfam showed.
Annual funding requests related to climate-linked disasters stood at an average US$15.5 billion in 2019-2021, up from about US$1.6 billion in 2000-2002 – but rich countries have met only just over half of these appeals since 2017, leaving a huge shortfall.
"What these increased funding needs reflect is a new reality … in which millions more people are facing critical threats to health, to safety, to security (and) to their wellbeing because of climate change," Tracy Carty, climate policy lead for Oxfam GB, told journalists.
Extreme weather is hitting more often and compounding the effects of conflict, displacement, poverty and other crises that make it harder for communities to cope with climate shocks. That is putting the global aid system under greater strain.
"The humanitarian system is failing to keep up," Carty added, calling for a "fair system" to pay for growing loss and damage.
Opening the Bonn talks on Monday, outgoing UN climate chief Patricia Espinosa said it was time to address loss and damage "in an open, constructive and respectful manner", and called for progress ahead of the COP27 summit.
Other groupings, including the 39-member Alliance of Small Island States and the 46 least-developed countries (LDCs), also repeated their demands this week for a dedicated financing facility to help countries ravaged by climate change impacts.
They urged the developed world – which is responsible for most historical planet-heating emissions – to close the funding gap so that the burden of climate change does not unfairly fall on poorer communities around the globe.
"A failure to cut emissions and provide adequate finance for adaptation is increasingly causing loss and damage in our countries, and we're paying for it," said Madeleine Diouf Sarr of Senegal, which represents the LDC group in Bonn……PACNEWS
PAC – OCEANS: RNZ PACIFIC PACNEWS 1: Thu 09 Jun 2022
Pacific seeks to ensure 'wider commitment' on oceans
SUVA, 09 JUNE 2022 (RNZ PACIFIC) — The global community needs to "be inspired" to defend the world's oceans ahead of the second United Nations Oceans Conference in Lisbon at the end of the month, a Fijian policymaker says.
Fisheries minister Semi Koroilavesau said the Pacific cannot protect its greatest resource through advocacy and action on its own.
Safeguarding the ocean and its resources against future dangers "to make it truly sustainable" will require the "entire world" to show more commitment, Koroilavesau said.
A former Navy commander and a self-professed marine advocate, he believes Pacific people's future will be secured if "we will take whatever actions we must take".
There are "enormous challenges before us and we need to turn our hopes into genuine ambition" to boost ocean action in the Blue Pacific, he told participants attending the World Oceans Day celebrations in Suva on Wednesday.
"As stewards of the Ocean, our task is to lead, to be a beacon of Blue leadership that inspires the world to turn away from the model of development that harms our ocean and threatens to strip off our life given resources," he said.
This year's theme for the international day – marked annually on 8 June – is "Revitalisation: Collective Action for the Ocean"
Koroilavesau said it calls for "wider commitment" and urged stakeholders to collaborate to realise the changes necessary to protect the ocean.
"Our shared commitment towards collaboration will inspire and ignite actions that will certainly benefit us and our future generations," he said, adding "the health and wellbeing of the Pacific Ocean and "the state of our climate are an interconnected system."
The Pacific Ocean spans approximately 41 million square kilometres and is a fundamental part of the livelihoods and identity of the Pacific people.
Pacific Islands Forum Secretariat (PIFS) deputy director-general Dr Filimon Manoni said the ocean is at the heart of the region's geography and its cultures.
"It's all we have…[and] all we return to in times of need, either for daily sustenance, for economic development, and nation building aspirations," Dr Manoni said.
"We are inextricably linked to the ocean in all aspects of our everyday life."
The ocean is home to almost 80 percent of all life on Earth. But its state is in decline, as it faces a range of threats due to human activity.
"Its health and ability to sustain life will only get worse as the world population grows and human activities increase," the United Nations has said.
2022, therefore, is regarded as a critical year for the ocean and an opportunity to reset the global ocean agenda at the Portugal conference.
This week, regional stakeholders gathered in Suva during the fourth Pacific Ocean Alliance (POA) meeting convened by the Office of the Pacific Ocean Commissioner (OPOC) to prepare for the UN conference.
The gathering was scheduled to align with the World Oceans Day to drive regional and global awareness of the region's priorities for global ocean action, according to OPOC.
Over two days, the alliance aimed to identify the collective priorities for ocean action and approaches to drive global support.
Ocean's Commissioner and Pacific Islands Forum secretary-general Henry Puna said "much has evolved" since the last time the Alliance met in 2019, prior to the Covid-19 pandemic.
Puna said the region now finds itself "in a much more contested and challenging environment…faced with heightened geostrategic competition" as it "navigates the impacts of a global pandemic".
"Yet the health of our ocean and indeed our planet continues to suffer as a result of climate change and other anthropogenic depressions," he said.
"This challenging context will place significant pressure on our ability to realise our political and sustainable development aspirations."
Several high-level ocean-related events have already been held this year with the Our Ocean Conference in Palau in April and the One Ocean Conference hosted by France in May.
Puna is expecting the conversations held during the POA meeting will strengthen the Pacific's collective vision to conserve and sustainably use the world's oceans and marine resources.
"I am hopeful that this gathering of the POA will provide an opportunity for us all to share our experiences and reflect on how we can work together, how we can collaborate and engage better, and how we can do more to ensure the health and survival of our ocean," he said.
The UN Oceans Conference will be held from the 27 June to 1 July.
SOURCE: REUTERS/PACNEWS