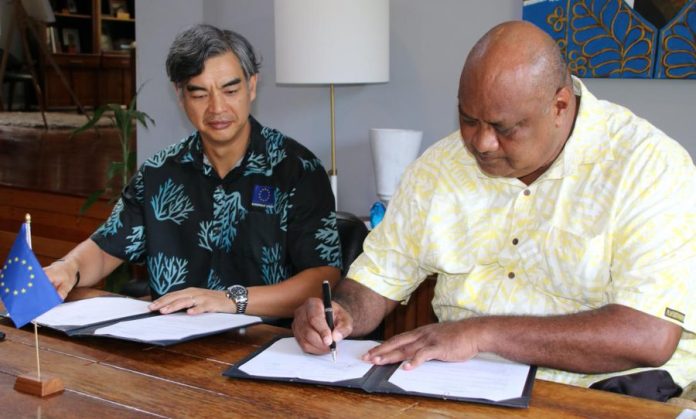 The European Union (EU) and the Secretariat of the Pacific Regional Environmental Programme (SPREP) today signed the Pacific Biodiversity and Sustainable Land-Seascapes (Pacific BioScapes) Programme to assist 11 Pacific island countries manage their marine and coastal resources.
The EU-funded Euro12 million (FJD$27.6 million) Pacific BioScapes Programme will contribute to the sustainable development of Pacific Small Island Developing States (SIDS) through the implementation of 30 focused activities in a diversity of ecosystems in Melanesia, Polynesia and Micronesia that will address critical issues concerning coastal and marine biodiversity, and ecosystem-based responses to climate change adaptation.
The official signature took place in Suva, between the Ambassador of the Delegation of the European Union for the Pacific, Sujiro Seam, and SPREP Director General, Sefanaia Nawadra.
Speaking at the signature ceremony, Ambassador Seam said, "The protection of marine and coastal resources remains one of the priorities of EU support in the Pacific and is an essential part of the Green-Blue Alliance between the EU and the Pacific Island Countries launched in 2021. The BioScapes programme will support some of the key activities for conservation of biodiversity and ecosystem management at sub-regional and national levels, taking due account of different needs and realities in different countries."
The Pacific BioScapes Programme will apply a ridge-to-reef approach to include both marine and terrestrial environments and address barriers to effective conservation and sustainable use of biodiversity. Programme activities will include marine spatial planning in the Cook Islands and Kiribati, climate-smart ecosystem-based management in Fiji, management of coral reef fisheries and resilience of coral reef ecosystems in the Marshall Islands, integrated island and ocean management in the Central Province in Solomon Islands, and capacity building for the Palau protected areas network.
All the activities will help Pacific SIDS meet SAMOA Pathway targets and achieve Sustainable Development Goal 14 to Conserve and Sustainably Use the Oceans, Seas and Marine Resources for Sustainable Development, as well as SDG 15 to Protect, Restore and Promote Sustainable Use of Terrestrial Ecosystems.
"Conserving our Pacific biodiversity is central to preserving our identity and our future, it is the very ethos of life and existence in Pacific island communities and for this reason SPREP is extremely grateful to partner with the European Union in this programme," Nawadra said.
"SPREP's mandate is to promote cooperation in the Pacific region and provide assistance to Pacific Islands in order to protect and improve its environment and to ensure sustainable development for present and future generations. Global challenges like climate change, invasive species, and pollution recognise no boundaries. These global challenges cause biodiversity loss on our shores and we must be proactive in our efforts to improve the sustainable management of our marine and coastal resources."
The Pacific BioScapes Programme will be managed and implemented by SPREP, through its Island and Ocean Ecosystems Programme.
The programme will strengthen the capacities of Pacific countries to effectively manage coastal and marine biodiversity and enhance resilience to climate change. It will also support regional, national and local efforts to assess, conserve, protect, manage and sustainably use marine and terrestrial biodiversity.
Eleven Pacific countries, namely the Cook Islands, Fiji, Kiribati, Republic of the Marshall Islands, Federated States of Micronesia, Palau, Papua New Guinea, Samoa, Solomon Islands, Tonga and Vanuatu, will benefit from activities to be funded by the programme with support ranging from national to community levels.
SOURCE: SPREP/PACNEWS