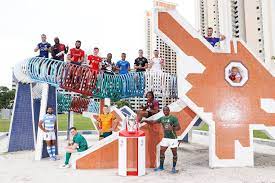 The HSBC Singapore Rugby Sevens on 09-10 April is set to thrill fans with the highly anticipated return to HSBC World Rugby Sevens Series action of Olympic champions Fiji, 2020 Series winners New Zealand and Samoa.
The team captains lined-up on Wednesday at the Toa Payoh Dragon Playground, a site of local cultural significance since 1979 where they had the opportunity to taste traditional foods and try their hands at local games and sporting challenges such as Chapteh.
South Africa were winners last time out in Singapore in 2019 and they have been in unstoppable form so far in the 2022 Series with four consecutive tournament victories to lead the Series standings with a maximum 88 points.
The Springboks Sevens have won six rounds in a row, including both tournaments in the 2021 Series. They have accumulated an impressive 34 successive victories, which is tied for the second most of all time on the men's Series, and they are chasing New Zealand's record of 48 wins in a row, achieved during a dominant spell in 2007-08.
However they will face stiff competition in Singapore with the return of Fiji, New Zealand and Samoa. All three teams missed the last two rounds played in Spain due to the logistical challenges of the COVID-19 pandemic and both New Zealand and Samoa are appearing for the first time on the 2022 Series.
South Africa captain Siviwe Soyizwapi said: "The Singapore Sevens is a really special tournament. It's a city and a place in the world that offers a different climate and it's different compared to the other stops. It was special for us in the final in 2019, to come back from trailing 19-0 to win. It's a great memory, however we're going to have to start all over again and start from zero. We always approach each tournament one game at a time, and we never move away from that approach. That has always been the effort that we put in each and every performance and the implementation of our processes. It's almost like a lullaby, a song that you hear all the time, but that's how we approach each and every game and tournament."
New Zealand captain Sam Dickson said: "It's been almost three years since we were here in Singapore and it's been a while since we've played international sevens. We've been working really hard the last few months and we're going to bring a lot of hunger and energy, and hopefully our experience and our natural rugby ability will be able to do the job."
South Africa are in Pool A with the USA, who were finalists in the first round of the 2022 Series in Dubai, alongside African rivals Kenya and also Canada. Pool B sees Samoa make their first appearance in the 2022 Series and they will face Australia, England and Spain with the top two teams from each pool qualifying for the quarter-finals.
Reigning Rugby World Cup Sevens champions New Zealand, who have five debutants in their squad, are drawn in Pool C where they will return to action with a mouthwatering encounter against in-form Argentina who have reached the medal podium in all four rounds of the 2022 Series so far. Scotland and Wales complete the Pool C line-up. Double Olympic champions Fiji are in Pool D together with Ireland, France and Japan.
2022 is a huge year for rugby sevens. Alongside the Series, the Commonwealth Games will take place in Birmingham, England in July and following the grand finale of the Series in Los Angeles in August, all eyes will turn to Cape Town, South Africa for Rugby World Cup Sevens 2022 on 9-11 September.
SOURCE: WORLD RUGBY/PACNEWS