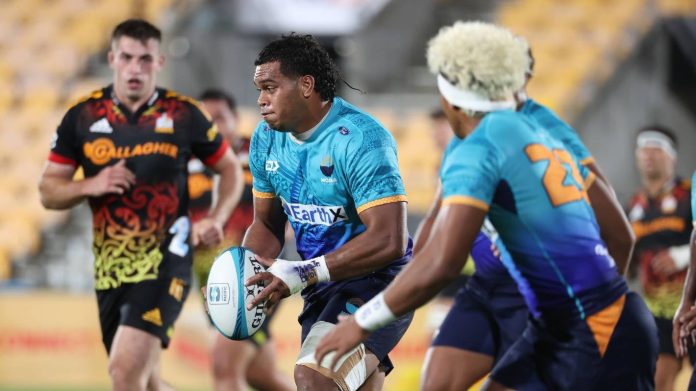 -Disappointed Moana Pasifika coach Aaron Mauger has challenged his players to address two key areas after being dished up a Super Rugby Pacific lesson by the in-form Chiefs at Mount Smart Stadium on Saturday night.
Mauger's Moana Pasifika received a reality check at the hands of the under-strength, but in-sync Chiefs in just their second official outing as a franchise. Following on the heels of their promising first-up 33-12 defeat to the Crusaders in their belated competition debut, this was a major step backwards as the Chiefs ran in nine tries en route to a 59-12 victory.
Moana had hung tough for most of the first half, trailing just 12-7 in the shadow of the interval. But tries either side of the break got the visitors on their way, and the floodgates rather opened in the second 40 with the Hamilton outfit crossing for six five-pointers in total.
It had been a testing week for the Auckland-based Pasifika side who had only returned from five and a-half weeks in their Queenstown bubble midweek, and had just a short time to reconnect with families before running out for their home debut with the stands empty. Mauger wondered if the emotions of seeing loved ones again after a long spell away hadn't taken a bit of energy out of his team.
The Chiefs arrived down as many as 19 players to Covid and injuries, but still ran a solid group out on the field who were able to squeeze their opponents up front and at the breakdown, and run rampant with some quality go-forward ball in hand.
Moana Pasifika's discipline, tackling and set-piece work had been short of the mark, as had their ability to slow down the Chiefs' quick ruck ball. It left Mauger warning afterwards his players had to take some key lessons on board.
"The big takeaway is probably the mentality – that's probably the word that sticks out – and intensity," said Mauger. "We just dropped off too easily, and it was a bit of a training run at the end for the Chiefs. You've got to give credit to them: they put us under a lot of pressure early, and we were giving away so many penalties in that first half, it took a lot of energy out of us. We've got to be better than that.
"We've trained harder and better than that. It was a pretty disappointing performance in the end."
Mauger conceded there had been positive aspects to his team's first 35 or so minutes, and they had nearly closed out a strong first 40.
"We had opportunities to get down their end, but we've got to nail our set piece, and we've got to nail our attacks close to the line. The Chiefs did well to hold us out but if we want to be serious about competing in this competition we've got to be much better in those areas."
Mauger, though, was confident a response would be brewing as his team regrouped for a Friday night visit to the Hurricanes.
"I don't think there's a lack of desire in this team, and I know our guys will be really disappointed with that. The feeling within the group is we're so much better than what we put out there, we know it's in us, and we showed it's in us for periods during the game.
"But the lesson is at this level it's got to be on for 80 minutes. That measure of what it looks like on the field is make a tackle, roll away, get back on your feet, make another tackle, put pressure on the ball … and it's doing that over and over again.
"When we start to cop out at times and give away easy penalties, bang, we're inside our 22, and these New Zealand teams are lethal when you give them that many opportunities. The scoreboard was a result of that pressure, but we can be so much better there."
Moana came through a tough night mostly unscathed. Lock Mike Mckee appeared to have dislocated a shoulder, and could be out for a while.
If there was one glaring positive, Mauger felt it had been in the performance of experienced Aussie No 10 Christian Leali'ifano.
"What a journey it's been for Christian, and he's just shown he's nowhere near retiring. He's got a real spring in his step, and showed early on with a bit of front-foot ball the threat we possess. When our forwards take command we've got some pretty lethal backs, and the challenge is to give them more of that ball and let those guys shine," he said.
SOURCE: STUFF NZ SPORTS/PACNEWS