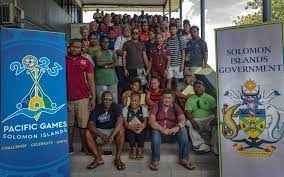 The Government of the Solomon Islands said it is confident that it can deliver the 2023 Pacific Games on time, despite the challenges that have came due to the COVID-19 pandemic.
This comes after presentations to the Solomon Islands Prime Minister Manasseh Sogavare and the Caucus last Wednesday (09 March) by the National Hosting Authority (NHA).
The Games Organising Committee, the Games Facilities Committee and the Pacific Games 2023 Cabinet Sub Committee updated the Caucus on their latest work.
NHA stated it was happy to collaborate further with the Government Service Integrated Committee to continue preparations and hold the event.
It was noted that the Pacific Games would require services in police and national security, health, education, corporate sponsorship, immigration, customs, protocol and transportation.
"The Pacific Games 2023 remains a key priority project for the Government and requires a whole of Government Approach to mobilise resources and manpower towards the Games," read a statement by the Solomon Islands Government Office of the Prime Minister and Cabinet.
"Prime Minister Manasseh Sogavare on behalf of Caucus acknowledged the ongoing preparatory works and assured the NHA that the National Government will devote a whole of Government approach to support the Games.
"This will include mobilising necessary Government resources to ensure the Games are successfully delivered.
"It is anticipated that the Games will bring substantial economic benefits for the country while at the same time serve as platform to enhance national unity and nation building."
Thousands of volunteers are expected to be needed for the Games.
So far, Solomon Islands' preparations for the event has been turbulent.
The Pacific Games were delayed by four months to allow organisers to better prepare for the event, now scheduled for 19 November to 01 December 2023.
Late last year, civil unrest erupted in the Solomon Islands and the Government's decision to move closer to China was listed as a cause for the deadly riots.
The President's Cup, a new domestic football competition, was expected to begin on February 1 but it was cancelled following the spread of COVID-19.
To date, there have been 8,491 cases of COVID-19 in the Solomon Islands, resulting in the deaths of 118 people.
Opposition politician Matthew Wale last month criticised Sogavare's Government for spending SBD100 million (£9.2 million/US$12.3 million/€11.1 million) on building stadiums for the Pacific Games, instead of allocating the funding towards COVID-19 prevention.
SOURCE: INSIDE THE GAMES/PACNEWS