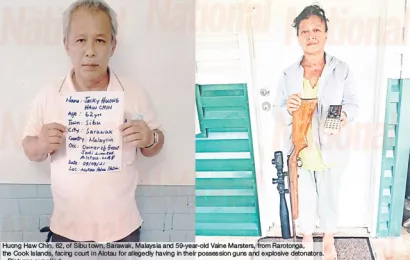 -Two expatriates, a 62-year-old man and a 59-year-old woman, were separately charged in Papua New Guinea's Alotau magistrate's court last week with possessing unlicensed firearms and ammunition.
In the first case, alleged illegal firearms dealer Huong Haw Chin, a Malaysian businessman from Sarawak's Sibu, pleaded not guilty in the Alotau magistrate's court to four charges of possessing unlicensed firearms and ammunitions.
Police confirmed with The National that Huong was arraigned by senior magistrate Rebecca Kwayaila who fixed 27 September for hearing to commence.
Also in the same court, Vaine Marsters, a widow from Cook Islands, was also charged with the same offence but her plea was not taken.
Kwayaila adjourned hearing to 04 October.
In just 10 days, police investigators picked up both Huong and Marsters in different locations with firearms in their homes.
Police Commissioner David Manning told The National that investigations into the firearms and explosive detonators found in both homes were still in progress.
In the case of Huong, police alleged that he had been registering and obtaining firearms and licences for buyers via illegal means.
Several firearms were found in the property he occupied but there were no proper legal documents to assist police to verify whether the firearms and ammunitions were brought through proper means.
For Marsters, police also seized 150 pieces of explosive detonators, 250 rounds of live ammunition of various calibres and a telescopic Winchester sniper rifle.
"The widow led police to the seizure of the explosives and igniters, ammunition and firearm," Manning said.
"The widow from Rarotonga has been staying illegally in Papua New Guinea after her visa expired on 04 February last year," Manning added.
He said the uncovering of the explosives and ammunition followed a robbery that occurred in the widow's house on 05 September.
"The investigation was led by police intelligence officers from the National Capital District and the Southern mobile group special services division policemen who pursued the case despite the challenges," Manning said.
"Police launched investigations that revealed the firearm and ammunitions taken were unregistered, with the firearm classified as dangerous with the capability of discharging several 9mm calibre rounds within seconds.
A week ago, police recovered the firearm and ammunitions at about 10am in Mutuyuwa village in Alotau.
Police returned to the widow, who upon further questioning, led them to a local construction company office, which was also her residence, where police recovered the explosives and live ammunition in the company safe.
She did not want to explain how those dangerous explosives and ammunition were kept in the office," Manning said.
Police have charged Marsters under the Firearms Act and the Migration Act.
Manning said the five firearm licences for Nawae Construction Ltd (in liquidation) were revoked after the expiry of the licences.
The five firearms seized from the company office are:
*SSB handi-rifle S/N: HH423985;
*RSA Ruger S/N: 23480774;
*RBA Lithgow S/N: 1520191;
*PSA Sig S/N: B265343; and,
*PSA heckler and koch rifle S/N: 127491.
SOURCE: THE NATIONAL/PACNEWS