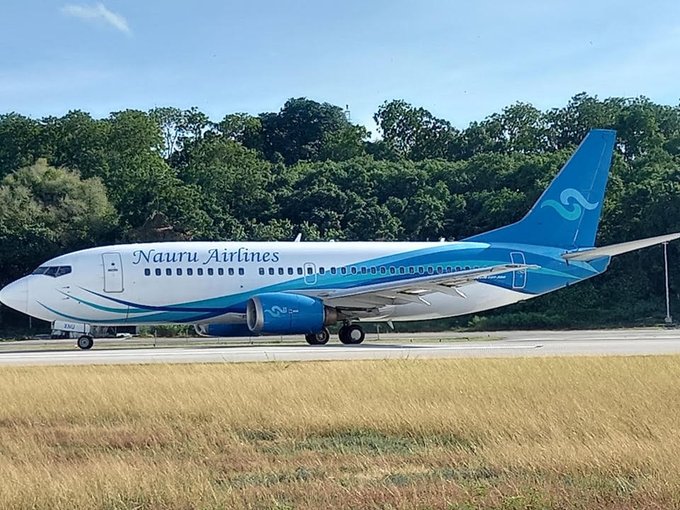 Palau President Surangel Whipps Jr, signed an air service agreement last week with Nauru, citing Palau looks forward to the day when air services can be restored with Nauru Airlines.
According to a press statement from the Nauru government last Friday, President Lionel Aingimea says the signing of the agreement "symbolises the profound relationship and friendship between Nauru and Palau, but also for the greater Micronesian sub-region."
President Whipps recalled a medivac incident in 1987 with Air Nauru when they operated a flight from Palau to Manila.
Whipps said the air service connectivity will provide the needed access to small island states.
"As small island states and large ocean states, one of the things… we understand is, without these connections to the outside world, we're really isolated, and a lot of times we're at the mercy of airlines and companies that maybe their interests may not be aligned with our interests," President Whipps said.
President Aingimea said Nauru is committed to providing a crucial role in the transportation sector sub-regionally, regionally, and internationally,"
Nauru Airlines flies to Fiji, Australia, Marshall Islands, and Kiribati. It has also served as a charter airline for delegates during the 19th Micronesia Presidents' Summit in 2020 held in Palau.
Whipps and Aingimea agreed that the air service agreement can open links to other parts of the world like Asia.
The agreement states that Nauru and Palau are mindful of the close ties that bind the two countries, and their desire to provide a framework for the conduct of air services.
The two countries, the statement said "recognise the strategic role of international air transportation in the sustainable development of island economies, and especially through the promotion of trade, commerce, and tourism."
President Aingimea also thanked President Whipps on behalf of the Nauru government for the recent mercy flight carrying 34 Nauruan patients and escorts to Taiwan from Nauru with a planned technical stop in Yap State for refueling.
Nauru president said the COVID-vaccinated passengers were allowed to land and spend the night in Palau, after encountering refueling issues in Yap.
Aingimea lauded Palau's readiness in accommodating mercy flights being better equipped with accommodation and aviation requirements.
SOURCE: ISLAND TIMES/PACNEWS