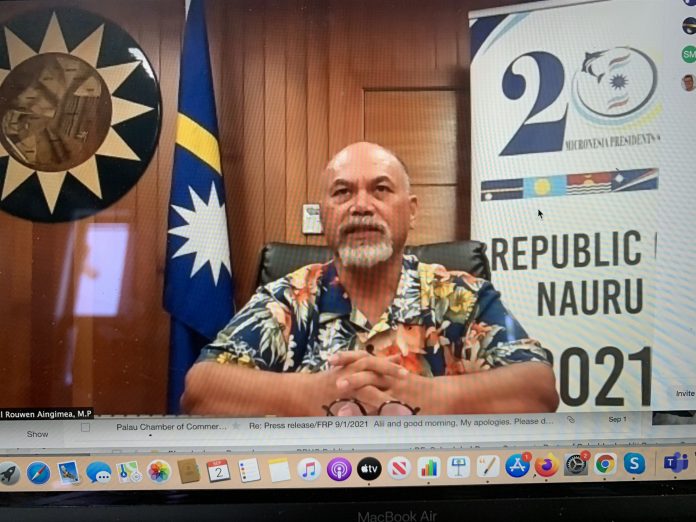 Nauru President Lionel Aingimea said Micronesian nations have not changed their position on leaving the Pacific Islands Forum (PIF) but that the sub-region is engaging with the other leaders to discuss the rift.
President Aingimea, in a virtual press conference at the 20th Micronesian Presidents' Summit conclusion, told reporters that the issue of the fracture has been "discussed at length over the three days "during the summit.
"Now the position of Micronesia is still the Mekreos communique, we have not changed from that position. And that has been the position that we have taken and that's the position that we have given to the Pacific Islands Forum," he said.
However he said the four presidents of the Micronesian countries – President of Kiribati, Taneti Maamau; President of the Federated States of Micronesia, David Panuelo; President of the Republic of the Marshall Islands, David Kabua; and President of Palau, Surangel Whipps Jr, are engaging with the PIF leaders on the issue,
"Having said that, there are still ongoing discussions happening. Those discussions have yet to finish. And as those discussions go along, I am sure there will be other issues or things that will come about that could help maybe take things forward. We are of course Micronesia is always willing to engage. But again I reiterate that our position is the Mekreos communique and we stand by what we have said."
In the Mekreos Communique' signed in Palau in 2020, presidents of FSM, Kiribati, Marshall Islands, Nauru, and Palau insisted the Forum honor a long-standing unwritten gentleman's agreement to rotate the secretary-general role by sub-region.
On Monday, the 20th MPS conducted virtually officially opened on the theme 'Sustainable Transportation and Trade through the Micronesian Region.
President Aingimea said the topics discussed by the leaders were the issues of COVID-19, climate change, food security, high transportation costs, intrusive geopolitics, security issues, and withdrawal from the PIF.
SOURCE: ISLAND TIMES/PACNEWS