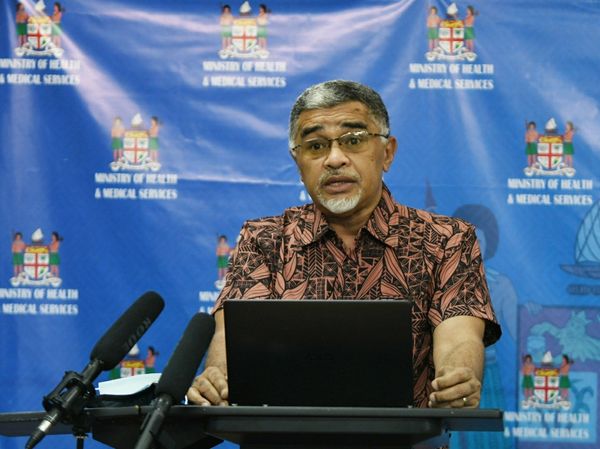 Two Fijian pregnant women are among the 21 COVID-19 deaths reported within a seven-day period from 14 July.
Their babies, however, were saved via a caesarean operation by the obstetric team.
Ministry of Health and Medical Services permanent secretary Dr James Fong revealed this Wednesday as he announced the country's 1, 091 COVID-19 positive cases.
He said the 21 COVID-19 deaths were recorded from 14-20 July.
Dr Fong said both mothers had been unwell with COVID symptoms at home before presenting to health facilities in severe respiratory distress.
"In both cases, our physicians made the decision to conduct emergency caesarean operations to rescue the new-borns and assist with the care of the mothers," Dr Fong said.
"Sadly, despite the best efforts of their attending physicians, both mothers passed away."
Dr Fong said maternal deaths at any time were a tragedy and maternal deaths due to COVID-19 were a clear indication of the severity of this outbreak.
He said the present outbreak was contained to Viti Levu, and primarily in the Lami-Suva-Nausori corridor.
And over the last week, he added that her been an increasing number of cases reported in the Western Division.
Dr Fong also announced 317 new recoveries with more than 4550 recoveries from the virus in total.
"Recovery is possible. In fact, most patients will recover.
"The sooner those most at-risk are identified and treated, the more likely they will be to recover as well. Many of those recoveries will continue to come out of our field hospitals," he said.
Head of Public Health Protection, Dr Aalisha Sahu-Khan confirmed that Fiji's total number of COVID-19 cases is now 20,373 since the outbreak in April of this year and 20,434 since March 2020.
A total of 144 people have now died from the virus.
There are 15,686 active cases with 317 recoveries.
Fiji's seven-day average of new cases is now at 1,111 per day.
Meanwhile, the Fijian Government is in the best position to weigh the pros and cons of implementing strict lockdowns, says Australian Medical Assistance Team (AUSMAT) mission leader Dr Brian Spain.
He highlighted this during an interview on Thursday, adding that lockdown was a very generic term that meant different things to different people.
Dr Spain said the team had realised that having containment areas in Fiji had been quite impressive –– referring to the containment areas around the Lami, Suva and Nausori areas.
"They have closed down the schools and universities and the shops and all of those things are known to reduce the impact of COVID," he said.
"And then you have to weigh up the social and economic impact of all of that on everyone.
"I think the Government is in the best position to weigh up all of those pros and cons and do what they do.
"And we know that in terms of protecting the Northern Division, by limiting travel to those places, that is a key thing to do at the moment so that we can get everything under control."
He said the Government and citizens of Fiji had done a lot to limit the spread of COVID-19.
SOURCE: FIJI TIMES/PACNEWS