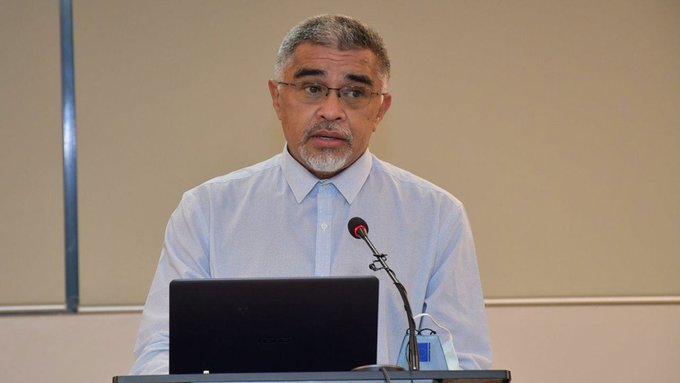 Fiji's Ministry of Health permanent secretary Dr James Fong says the global expert consensus is that COVID-19 is likely to become an endemic disease, one which continues to circulate indefinitely.
However, he said it was too early to say if that would be the case in Fiji.
He said regardless, the strategy remained the same.
"We have to help people navigate the risks of the virus and protect its worst outcomes of severe disease and death until more of our population can be immunised against the virus," Dr Fong said.
He said vaccinations provided a layer of protection that would allow for the gradual rollback of health restrictions, but some COVID-safe measures would become a way of life for all people to protect lives and livelihoods in Fiji and around the world.
"The sooner we make those important adjustments as a society, the safer we will all be over the long-term.
"We need to be able to move for essential purposes without moving the virus with us.
"We must protect lives and livelihoods and be able to operate our economy in well-managed COVID-safe ways.
"We all want life to look more familiar than it does today."
Dr Fong said the health teams needed the people's compliance and commitment to be vaccinated so that "tomorrow, we can reclaim the lives we knew".
"Keep the faith. That future will come. The sooner we walk towards it together, the sooner it can arrive for all of us.".
Meanwhile, Specialist Anesthetist and Australian Medical Assistance Team (AUSMAT) member Dr Brian Spain said they are ready to help Fiji.
"We are here to work, we are ready to work seven days a week, long hours to do everything to help Fijians in the COVID-19 battle.
The team is currently on a ten days quarantine and will be transferred to Suva when their quarantine period ends next week.
Dr Brian said the team's focus has been placed on strengthening the Infection Prevention Control in our healthcare facilities and also work on restoring services at the Colonial War Memorial Hospital.
"Three of our team members have particular expertise with Infection Protection Control (IPC) one of them was running the quarantine centre in Darwin for the last seven months," Dr Brian said.
"We have a lot of practical expertise in areas that have worked for us and we are keen to focus on Infection Protection Control in particular in supporting the staff at CWM on how we can work with them and the Ministry Of Health to restore functions at the Hospital," he said.
"We will also work with them to strengthen the Infection Prevention Control in other health centres across the whole country."
Dr Brian said they would also work with the Fiji Emergency Medical Assistance Team should they need support.
"One of the members of the team from New Zealand is an expert in the area of public health and we are developing some support on epidemiology so we will be working alongside the officials here in Fiji in supporting the health care system."
He said the team had been impressed with the way Fijian medical personnel had been working in their response to the emerging cases.
"We want to work in partnership with the Fijian health team who have already done a great job trying to control the COVID pandemic.
"We know that it is very difficult to control and it needs multiple approaches to be able to combat to support the health system here.
"We have met with Dr Fong and his team, we have met the World Health Organisation team, the collaborators of the command centre for COVID and we have future meetings with the laboratory people and the Fiji National University," he said
SOURCE: FIJI TIMES/FIJI SUN/PACNEWS