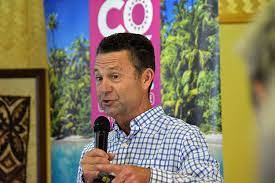 More than 40 Cook Islands tourism operators have signed up to display their products at a trade expo in Auckland next month.
The idea was tabled early this month when Cook Islands Tourism Australasia general manager Graeme West called for feedback at a global breakfast update hosted by the Cook Islands Tourism Corporation, at the Edgewater Resort and Spa.
On Wednesday, West confirmed more than 40 exhibitors would attend, including Air New Zealand.
A venue in Ellerslie had been initially proposed but the overwhelming response had forced organisers to look elsewhere, he said.
"We have had an overwhelming response from hoteliers and operators joining us for the expo," West said. "In fact, so many have registered we have had to look for a new venue."
West confirmed later on Wednesday that the venue had been moved to the Hilton Auckland.
Operators will have their own booths with a trestle table at no cost but it would be their responsibility to dress it.
The expo will have two components – on Sunday, 04 July, a consumer day aimed at attracted visitors and Monday, July 5, will focus on retail travel agents and wholesalers, West said.
"It gives people the opportunity to walk around and speak with all of the hotels, resorts and activity operators.
"It will show the breadth of accommodation we can offer and the number of excellent activities and attractions available for people to enjoy."
There would also be Cook Islands destination presentations during the expo, West added.
"Consumers can make bookings on the day, either directly with the hotels and resorts, or through one of the retail agencies we have attending."
Cook Islands Tourism Industry Council president Liana Scott, who will be attending the expo, said there had been a good response from operators, given the short notice.
"When you normally go to expos you are competing with other nations. This expo will be solely Cook Islands focussed," said Scott, who is the general manager of the Muri Beach Club Hotel.
"It has been 14 months, people have been out of touch. I think we need to make sure we are sending the messages that give confidence to travellers."
Early this month West estimated visitor numbers to the Cook Islands to be between 50 and 60 per cent of pre Covid-19 figures in the coming months, with 11,000 estimated in July, 9000 in August, 10,000 in September and 10,500 in October.
SOURCE: COOK ISLANDS NEWS/PACNEWS