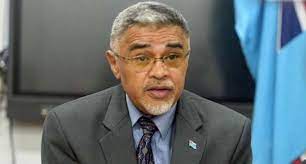 Fiji has reported another seven active COVID-19 cases of recovery.
Head of Health Protection, Dr Aalisha Sahukhan during the daily press briefing Tuesday said with the seven recoveries Fiji now has 44 active cases which are currently being admitted in isolation units.
As to whether these cases were border quarantine or locally transmitted Dr Sahukhan said she will reveal more details today.
Meanwhile Permanent Secretary for Health and Medical Services, Dr James Fong said no new case of COVID-19 was reported Tuesday.
He said 98 contacts of the two doctors at the Lautoka Divisional Hospital who are the latest cases of COVID-19 infection have been identified.
Dr Fong said an immediate and intensive contact tracing exercise was conducted.
He said they are quite sure one doctor had passed the virus to the other doctor.
"But individually, they both came into contact with many others. So far, 98 have been identified," Dr Fong said.
"Many of these contacts – unsurprisingly – are their colleagues who work at Lautoka Hospital, including doctors and nurses," he said.
"As per protocol, these Fijians must be entered into two weeks of quarantine.
"This has seriously affected our staffing capacity, particularly for medical and surgical services.
"We have re-deployed staff from other facilities to cover these gaps, but needless to say, it will be a very demanding two weeks of shifts for the staff at the Lautoka Hospital. Still, we are confident we can manage."
He said the Ministry will not reveal the identity or details of any positive COVID-19 patient.
"Sometimes, patients choose to share their COVID-positive status – but doing so is just that, a personal choice," Dr Fong said.
"So please stop asking us about the personal details of any patient. We will never give them," he said.
"Physician-patient privilege is sacred and we will not violate it – that is my answer today, and it will be my answer tomorrow and every day after."
In another development, the Ministry of Health and Medical Services teams have administered all 4,000 COVID-19 vaccines doses allocated for Suva.
Dr Fong said the deployment of the vaccines went off without a hitch as high-risk individuals, including the elderly, more frontline healthcare workers, bankers, and taxi, minibus and bus drivers came forward to be protected.
"I'll remind everyone, getting one dose does not mean you are vaccinated – it takes two on a 10 to 12-week timeline," Dr Fong said.
"No one in Fiji is fully vaccinated. All of us must practice strict adherence to our health protection measures until such time that we achieve the full immunity of our eligible population," he said.
Dr Fong said they expect to roll out the remaining 20,000 doses through the Western division by the end of this week.
SOURCE: FIJI TIMES/PACNEWS